Posted By RichC on March 22, 2007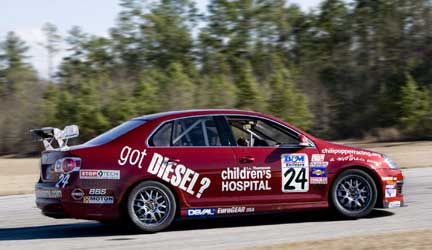 Unfortunately the Volkswagen Jetta TDI in the Speed World Challenge Touring Car championship this year had to drop out of the race after only two laps in its first race on Friday at Sebring. Press reports say the biodiesel-powered car, driven by Jim Osborn, suffered mechanical problems. Next race is May 17-19 in Utah.
Here's a press comment (see previous post ) over at MotorSport.com mentioning that the VW Jetta TDI was running biodiesel (B50) as well as Chili Pepper Racings March 15th press release.
With the start of Round 1 SPEED World Challenge Touring Car Series Chili Pepper Racing became the first team to race a production based DIESEL powered car in US Touring car history. In addition, SCCA PRO Racing and Chili Pepper Racing made Motorsport history as the first to approve and race BIO-Diesel fuel in a production based Touring Car Series World Wide. The #24 Spice Red Volkswagen Jetta TDI was fueled with B50 blend Bio-diesel utilizing "food-grade" soy oil as it base. This falls on the heels of the Motorsports Industry Association International conference on Energy Efficient Motorsports and is part of global trend to develop and promote bio-fuel technologies.