Posted By RichC on June 19, 2007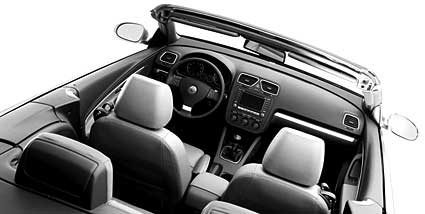 My wife has admired the Volkswagen EOS 'retractable hardtop' convertible ever since it appeared in 2006. She is attracted to it first because it is a convertible, second because its not a soft-top convertible and third because it drives like a sporty VW (we did test drive an EOS with the DSG and turbo 2.0L, but found the manual 6 speed better for the low torque 4 cylinder gasser). The front wheel drive (with the right tires) should help the slippery road handling over other rear drive hardtop convertibles, and the huge sunroof is perfect for letting the late fall, winter and spring sun in — unique to Volkswagen. As for summer … who doesn't love a small top down sports car capable of 30 mpg's on the highway selling for under $30,000? Still we're not quite sold … we're hoping the one debuting in the UK eventually makes it to North America. A 140 HP TDI EOS clean diesel in my opinion should top 40 mpg and be a unique car. Wow … a TDI Volkswagen with a retractable top — now that would be a TDI lover's dream car!
There is one downside to a retractable hardtop … trunk space. If you've got to have room for 4 and still have trunk space… the EOS is not for you. BUT compared to two seat convertibles or the ones which pretend to have seating for four, the EOS gives you a reasonable back seat to toss in the occasional bag of groceries or overnight luggage. Besides, the EOS isn't suppose to take the place of the family minivan or SUV.
I concur with the Motorweek gang … its the best of convertible of 2007.