Posted By RichC on October 19, 2009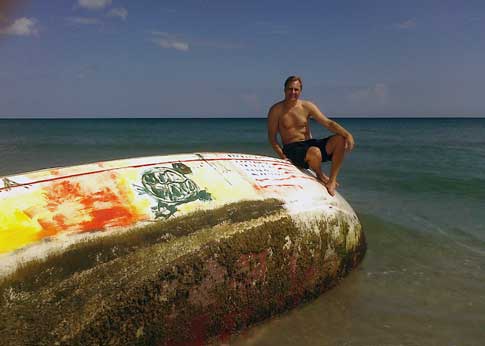 Of all the boats we looked at … this was the only one in my price range!
I don't have an excuse for not posting to my blog last week except for being on vacation. I had the best of intentions to post a few times while I was dreaming of new sailboats in Annapolis or pondering the far off dream while reading Cruising World on the beach … unfortunately I just never got around to it. It may have been the evening chores at the condo, or enjoyable time alone with Brenda, but I never got beyond checking a few email on my phone — nevertheless, it is good to be home after a week away.
Added — tearing down the 2009 Annapolis boatshow — Cruising World/Sailing World
Along with vacationing, we detoured a couple days to look at sailboats for sale … of the three used boats we enjoyed seeing in Florida, the Freedom 35 "Diamond Girl" was as clean as a 15 year old boat could be — it was tough to only be "looking" — maybe next time?