Posted By RichC on December 5, 2009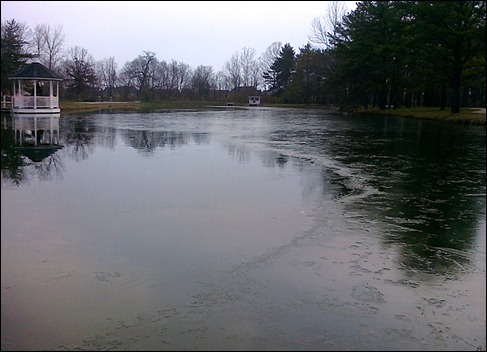 It was the first day of ice for our small lake and time to take my annual trip to pick out a large-ish Christmas tree. Usually this is done with my son who argues that the tree isn't big enough, but this year the 'duty' fell on to my shoulders alone. Pressure … already knowing what the comments will be — "It's too small." So knowing this, my goal was to find an 'acceptable' tree AND have the chore done before the Pitt Panthers hosted the Cincinnati Bearcats on a televised football game.
Mission accomplished with a full half of football left to watch … and what a half it was!
Thankful that I missed the first half, since the Bearcats were down by several scores and saw UC quarterback Tony Pike intercepted 3 times. Pitt dominated in yardage as well with the solid rushing of freshman Dion Lewis; even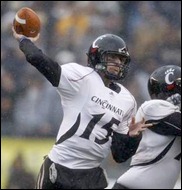 as I glance at the score, I wondered if the game would be TV worthy?
But … the second half was a totally different story. The Bearcat defense all but shut down the Panthers and I saw the University of Cincinnati team mount a miraculous comeback. Cincinnati's Mardy Gilyard stepped up with big runbacks and exceptional receptions. Coach Brian Kelly seemed to have inspired his team to greatness (actually no surprise). It was the kind of coaching one would expect from perhaps a Notre Dame coach, not a University of Cincinnati coach.
😉
In the final seconds the Bearcats superstar quarterback Tony Pike marched the ball down the field with a mere 1 minute 39 second in the 4th quarter. He connected with Armon Binns for a tying touchdown with 33 seconds remaining, leaving Pitt's missed extra point and the previous Pike to Gilyard 2-point conversion critical plays in the game. The extra point was good and Cincinnati's defense held for the final seconds.  Every Bearcat stepped up and demonstrated why they are ranked number 5 … and why they are the BCS champs heading to a bowl game.
What a game: Cincinnati Bearcats 45 – Pittsburgh Panthers 44.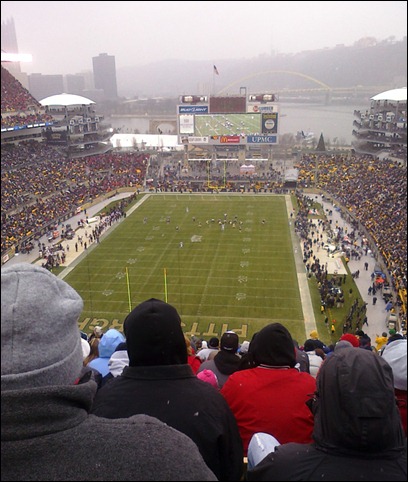 Photo Credit: Brian Sell via Twitter