Posted By RichC on January 30, 2010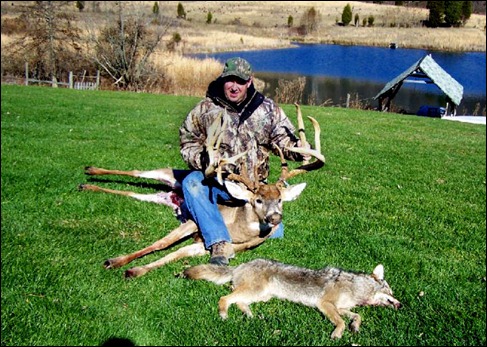 On Saturday, Clayton, Ohio hunter Brian Stephens will know "officially" if the buck he shot with a muzzleloader on November 30th 2009 is one for the record books. (photo above is Brian, the buck and a coyote)
Without question the "green" scored 232 5/8 non-typical whitetail deer taken in Highland County Ohio is one big Ohio whitetail deer, but the official scoring much be done after the antlers are "dry" – a minimum of 60 days. Measurements taken earlier came in at 35 1/8 inch left and 34 4/8 inch right which make this non-typical whitetail the largest ever recorded, according to Ohio Department of Natural Resources. (A deer's antlers are classified as being typical when they are symmetrical and regular in shape. Non-typical antlers are those that have uneven or unusual tines, irregular points or outgrowths.)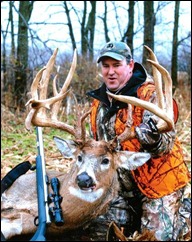 From Stephensbuck website:
On November 30, 2009 Brian Stephens of Clayton, Ohio shot this 18 pt. pending Ohio muzzle-loader state record whitetail buck in Highland County. Official green scoring puts the deer at 249 5/8" gross – 232 5/8" net. The buck was green scored by Mike Wendel for Boone & Crockett and Longhunter.

From North American Whitetail Magazine Spring 2010 Cover Story Editor Gordon Whittington

"The significance of the Stephens Buck goes far beyond his eventual score or ranking in any record book.  What makes him so historic is his incredible frame, which is arguably the biggest of any know whitetail."

From the Dayton Daily News article by Jim Morris
"It's the biggest thing to come through my door since the Beatty Buck, and that was nine years ago," Busse said. "The main beams — as far as my research has been able to come up with — are the longest main beams ever recorded on any deer in history," Busse said. "Seeing a deer with main beams over 30 inches is rare. And I think the record is 33½. These are both over 34½."

Brian was hunting on private land and has video of this buck from 2007. This trophy of a lifetime is being preserved by Master Taxidermist Rick Busse of Piqua, OH.
EDIT Update: 1/30/2010:
The official score confirmed that not only is the Stephens Buck the largest ever taken by a muzzleloader in Ohio, but it tops all Boone & Crockett main beams ever taken in the world. The main beams measured 35 1/8 on the left and 34 1/8 on the right. No other whitetail deer in the B&C record books has a main beam longer than 33 1/8 inches. — LINK