Posted By RichC on February 15, 2010
Finally after too many years and several strong attempts to win her back, the America's Cup is back in a U.S. yacht club for the first time since 1992. Team BMW Oracle defeated the Swiss Defender's Alinghi outright to bring the the cup to San Francisco's  Golden Gate Yacht Club in a convincing win on February 14th .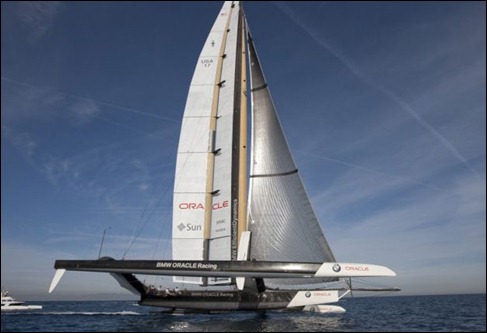 BMW ORACLE Racing Team's revolutionary wing sail powered trimaran USA convincingly won Race 2 off Valencia today to win the 33rd America's Cup match outright.

The American team, founded ten years ago by software mogul Larry Ellison, achieved its ultimate goal when they powered across the finish line of Race 2 with a margin of 5 minutes and 26 seconds to defeat the Swiss Defender's Alinghi 2-0.

Ellison sailed on board USA today, his first America's Cup Match race proving a winning one.
See americascup.com