Posted By RichC on August 18, 2020
We are really enjoying the time we have to stay around home this summer amidst Coronavirus concerns … although Brenda has never stopped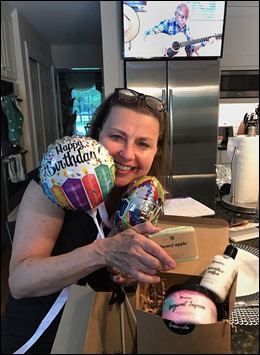 going to work … she works in an "essential business" — pharmacy. 
We certainly enjoyed having Katelyn, Drew, Annalyn and Ellerie to our house for a mini-vacation for several days earlier this month and to celebrate Brenda's birthday … and have enjoyed the regular weekend visits from Taylor and Megan all summer (since they are apartment bound, they appreciate our pool and grill).
Last weekend the two of them were over on  Saturday to celebrate Brenda's birthday (photo left and link is 2019 post) and then again on Sunday to drop off some wood that Taylor wants to make into a couple of personal wedding gifts (he has three wedding coming up in the next couple of months). Of course I'm looking forward into lending a hand.
Their timing on Sunday afternoon after a trip to IKEA couldn't have been better since I was pretty much stuck after trying to take down an old basketball pole in our driveway by myself. Taylor's extra hands and strong back (which is why I didn't ask Brenda) was just want I needed to complete the task. I could not believe just how seized and rusted the pivot point were – bent one of the heavy arms just trying to loose it after Liquid Wrench and heat.
The TV image in the photo above also reminded me that I has archived a Jimmy Buffett video "stay at home" COVID19 song for Megan – she is a big fan – as is her dad (and who knew she was such a big fans of these too?) 😉 I might as well include the album "A White Sport Coat and a Pink Crustacean" side B's final song call "Death of an Unpopular Poet" (lyrics below) rather than save it for a Music Monday post. The song as JB comments was about the American poet and novelist Kenneth Patchen (12/13/1911-1/8/1972).
Death of an Unpopular Poet

This song is by Jimmy Buffett and appears on the album A White Sport Coat And A Pink Crustacean (1973).

I once knew a poet
Who lived before his time
He and his dog Spooner
Would listen while he'd rhyme
Words to make ya happy
Words to make you cry
Then one day the poet suddenly did die

But he left behind a closet
Filled with verse and rhyme
And through some strange transaction
One was printed in the Times
And everybody's searchin'
For the king of underground
Well, they found him down in Florida
With a tombstone for a crown

Everybody knows a line
From his book that cost four ninety-nine
I wonder if he knows he's doin' quite this fine

'Cause his books are all best sellers
And his poems were turned to song
Had his brother on a talk show
Though they never got along
And now he's called immortal
Yes, he's even taught in school
They say he used his talents
A most proficient tool

But he left all of his royalties
To Spooner his ol' hound
Growin' old on steak and bacon
In a doghouse ten feet 'round
And everybody wonders
Did he really lose his mind
No, he was just a poet who lived before his time
He was just a poet who lived before his time