Posted By RichC on April 9, 2010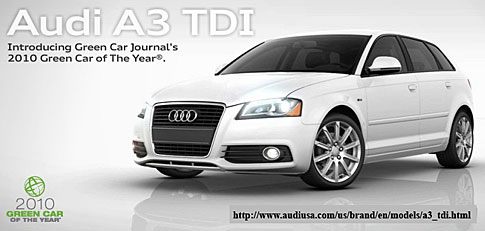 Mark Phelan, a columnist at the Detroit Free Press, offered a balanced article on the small A3 TDI by Audi. I've been ogling the luxury hatchback as an eventual daily driver for my long jaunts. Disappointingly the lack of the excellent Audi Quattro feature and high price for a small car has shying away. Still, having another fuel efficient and clean diesel offers options … if you can find one to buy (looked but can't even find them to test drive).
The luxury hatchback uses today's technology to create an exciting driver's car that comes within an eyelash of the 35.5-m.p.g. standard that takes effect in 2016.

That's the good news. High fuel economy and exciting performance can coexist. The new standards need not mean the end of enjoyable, exciting cars.

The bad news is that the A3's power and efficiency come at a stiff price. The Audi's base price approaches $30,000. Its diesel engine, dual-clutch transmission and other advanced features can push the compact hatchback's price to painfully high levels.