Posted By RichC on April 11, 2010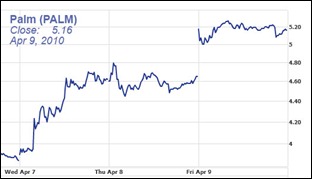 After the stock bouncing on Friday, Palm Inc shareholders and smartphone users continue to speculate just was will happen to their financially troubled company. Rumors continue to be battered around (article below) as having interest in Palm – the latest being HTC Corp.
On a personal note, I am beginning to embrace my Palm Pre after a less than enthusiast year (giving up some appreciated features of the PalmOS). I've found the improvements with the current webOS 1.4.1 release to be excellent and the new 800 mhz patch making the phone super responsive … as well as an overall appreciation for "Synergy" and the ability to multitask using "cards."
Palm shares rise as takeover rumors persist

Shares of Palm were up 11.6 percent in early afternoon trading on Nasdaq, following a report in Taiwan's Economic Daily News that HTC Corp  that the world's No. 5 smartphone maker has "opened discussions about an intent to acquire" Palm.

A U.S. spokeswoman for HTC, Linda Mills, said the company does not comment on rumors, but added: "To the best of my knowledge this is just a rumor."

A spokesman for Palm, which makes the Pre and Pixi phones and develops WebOS phone software, declined to comment.

HTC ranks behind bigger smartphone rivals Nokia, Blackberry maker Research in Motion, iPhone maker Apple Inc and Motorola Inc  in the global smartphone rankings, according to research firm IDC.

HTC's phones are based on software developed by Microsoft Corp and Google Inc's Android software. A Palm deal would give HTC its own operating system software as well as Palm's established U.S. brand.

Still, a deal would likely come with a price tag of more than $1 billion for a company with a small market share in the shadow of Apple's iPhone and the Blackberry's ubiquity among corporate and government users.

Palm's stock soared earlier this week as investors covered short positions on renewed speculation that the smartphone maker might be an acquisition target.

The talk on Wednesday was focused on Lenovo Group Ltd as a potential bidder for Palm.

Palm has for years been mentioned as a target for larger companies hoping to enter the mobile market or expand their presence.

Analysts have termed unlikely a Palm buyout by technology hardware makers like Dell Inc, citing the cost of buying Palm and integrating its technology.

But recent concerns about Palm's viability, and have stirred up more talk. In the past 6 months, its stock has tumbled nearly 70 percent, slashing it market capitalization to about $780 million from $2.4 billion.