Posted By RichC on June 12, 2010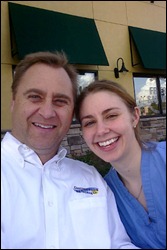 I've been putting a few more miles on the Honda Pilot than usual, for both work and personal travel, which has me thinking about diesel cars and the soon to expire tax incentives on a few models. It would be nice to have a new Volkswagen Jetta TDI or Sportwagen TDI, but with the slowdown in my business and questionable economic recovery, it is probably wiser to service and continue driving the very comfortable Honda Pilot (now at 105,000 miles). Thankfully fuel economy is reasonable for a 4WD eight passenger SUV, and the gasoline prices have been 'fair' so far this year. Also, this Honda 'appliance' is as reliable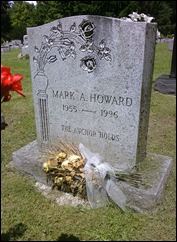 as any car I've owned.
Travels this week included enjoying dinner with my daughter (left) and heading up to western New York to assist my mother and father-in-law. It was a pleasure to be able to help them with a few computer related retirement issues as well as tackle a few things at the farmhouse that needed to be done … or "needed" according to my detail oriented mother-in-law.
🙂
For my effort, I was treated to our entire family's favorite fried fish restaurant – Davidson's — which celebrated 60 years as a family owned business in Lakewood (Jamestown), New York. To cap off the extra large fish dinner, the three of us were treated to a complementary piece of chocolate 60th anniversary cake! (Brenda's mom and dad first dined there in 1955)
By Dennis Phillips, dphillips@post-journal.com

LAKEWOOD – On June 7, 1950, an ice cream stand, which also happened to serve sandwiches, opened at 398 E. Fairmount Ave., in Lakewood

The business was known as Davidson's drive-in, serving charcoal-cooked hot dogs, potato chips, soft ice cream, milkshakes and root beer served in frosted mugs.

Now, 60 years later, that same business – now known as Davidson's Family Restaurant – is still open.

Of course, there have been some changes through the years, like the different looks the restaurant has had to expanding its menu to now serve family-style dinners. The long-standing Lakewood eatery, which is located at 398 E. Fairmount Ave., was opened by Bob and Margrete Davidson and is now run by their son, Ron, his wife, Linda, and their daughter, Leslie Genareo.

Continuing the family legacy is a goal the Davidsons take honor in maintaining. Ron, who has spent his whole life working at the family business, literally grew up at the restaurant when the family actually lived in the back for a period of time in the 1950s. Linda has been part of Davidson's for almost 40 years, marring Ron in 1972. Mrs. Genareo, like her father, has been part of the restaurant her whole life, starting the third generation of Davidson to do so.

"My parents founded the restaurant. They had the idea," said Ron. "They worked together, they were partners like us (gesturing to Linda). They deserve most of the credit for establishing the restaurant. Then we took the responsibility to carry on that tradition. The tradition keeps you motivated to keep going."

A family legacy that continues to move forward with new ideas and innovations to ensure the business will continue.

"My parents deserve a lot of credit too. They're carrying on the tradition, having to adapt to changes in the business," Mrs. Genareo said. "There is a lot of pride in keeping the family tradition going. I'm proud to be the third generation to work here."

As important it is to keep the family institution going is essential for the Davidsons, they said it wouldn't be fun without great customers and employees.

"We have a lot of employees who have been here a long time. A lot of second generation employees," Linda said. "We couldn't do it without them."

Ron added, "We have a lot of second, third generation customers too. I like that," he said.

The atmosphere adds to the charm of the business, as the communal booths inside the restaurant allows for dialogue from table to table.

"It's a community stomping ground," Leslie said, with Ron following that the restaurant is "like a local watering hole. Like how those places use to be in the old days. We've even kept our counter to continue that aspect of neighbors being able to talk while getting a bit to eat."

The Davidsons said one of the keys to the business' longevity was when the family switched from serving mainly sandwiches to family-styled meals in the 1960s to keep up with fast food chains. The one dinner the business is probably most know for cooking started in 1963 when the first fish fry was served for 79 cents.

"There were not many fish houses in the area at the time, so my parents thought that would be a good idea," Ron said. "They came up with the Western New York fish fry, which is different then how most places serve it. We use a wet batter, which is more like an old English fish and chips type meal. We also use quality fish from Iceland."

Along with fish, which is served every day at the restaurant, the business is also know for its broasted chicken, which is pressured cooked with a special breading. Davidson's also serves steak and grilled chicken salads, two soups of the day everyday and, a new favorite, Cuban sandwiches. The restaurant also has a children's menu and offers daily, monthly and blue platter specials.

"We can serve everyone from the factory worker done with a day's work to a family of four," Ron said.

Mrs. Genareo said the family is looking forward to 60 more years of serving the community

"If you pay attention to the food, the employees and the customers, don't lose focus on that, you're going to be successful," Ron said.