Posted By RichC on June 9, 2010
I enjoyed the "Auto Examiner" review of the limited edition 2010 Volkswagen Jetta TDI Cup Edition review partly because it was a car I've had an interest in. Unfortunately the truly limited production will keep it away from most would be buyers in that they are only taking building after receiving orders — "The Jetta TDI Cup Edition is made to order only–place an order with a dealer and they'll build one for you–and to date, 259 of that 1,500 have been made." Check out John Matras review.
Race on Sunday, sell on Monday. That's been the motto of many auto manufacturers since the dawn of the automotive age.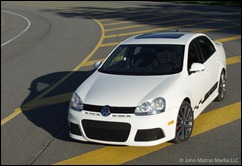 In fact, the first car race in the United States, in 1895, was staged to encourage domestic manufacture of automobiles. It's no surprise, then, that Volkswagen took the diesel powered Jetta TDI racing, and from there made a streetable replica that VW calls the Volkswagen Jetta TDI Cup Edition.
Volkswagen didn't just take a single team or two to compete in an established class. Rather, Volkswagen of America has sponsored an entire race series called the Volkswagen Jetta TDI Cup, purportedly to encourage a fresh generation of up-and-coming drivers, all vetted and approved for the limited number of seats. As the name of the race series suggests, the cars are all VW Jettas powered by Volkswagen's 2.0-liter turbocharged clean diesels but fitted with the suspension and brakes of the performance-oriented VW Jetta GLI. The cars are equally prepared by VW and shuffled by VW for each race, making for very close competition at each race, with the drivers beholden to their own skills rather than their mechanics'.