Posted By RichC on July 21, 2010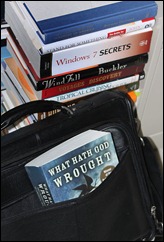 I met my daughter at the Barnes and Noble bookstore tonight and had a chance to play with her electronic Nook reader again, but this time in the store. I have to admit for reading, the screen is excellent and reading text easy even for my presbyopia.
Reading from the eReader has me re-thinking that there is a better way than hauling around hardback and paperback books. Still, I'm in the printing business and feel a little guilty giving up on paper, although my best friend just bought a Kindle!
Another consideration is that my computer bag is starting to bulge beyond what should be asked from it … especially stuffed with a recent book from Karl and Clayton's Summer Book Club, Daniel Walker Howe's What Hath God Wrought – even in paperback it tips the scales at 928 pages! What to do, what to do?