Posted By RichC on October 11, 2010

My "greatest generation" father-in-law (Brenda's dad) has been struggling medically for the past month and a half suffering with pain from his back and a fractured hip. After a valiant attempt at rehab and without significant success using drug and therapy, he opted for back surgery in hope to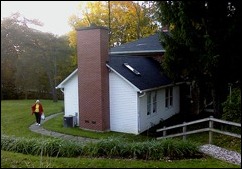 eliminating pain and to regaining functional use of his legs. Back surgery isn't someone anyone goes into lightly, but at 85 years old it is even more challenging. His daughters, all three live out of town, have been evaluating and traveling home to western NY to help care for him and they nervously helped schedule their dad for neurosurgery.
With work and family schedules as they are, I was the one able to schedule my work week and drive up to lend a hand. So, last Friday Brenda's mom and I took my father-in-law to Buffalo (and hour and a half drive) at 6AM for his scheduled morning surgery. Unfortunately an emergency took the early surgical slot and his 3 hour surgery was moved back to 2PM. The neurosurgeon finished up at 5PM and gave a positive post op report to us. The doctor felt confident that he was able to open the spinal column and rebuilt the L4-L5 vertebrae. We were able to see Brenda's dad to his recovery room although he was a bit spacey that Friday evening. We heading home for the night and headed back to visit on Saturday.
Saturday morning was semi-promising as the major pain was gone, but he was vomiting. We weighed the recommendation for a nose tube in order to decompress the stomach (he didn't want) and remove any blood and bile, but gave him a little more time to settle his stomach. It worked out to be a good decision. After a long day at the hospital, we headed back home and a fish dinner at my favorite Jamestown restaurant.
Sunday morning was my 'hand=off' day … as my sister-in-law planned to head up and relieve me. I took Brenda's mom back to the hospital and was happy to see a smile on my father-in-laws face when we arrived. He was sitting up in a chair with his brace on and looking forward to trying to eat something – liquids only were the doctor's orders. We had a positive meeting with the doctor and I felt good when I left for home.
All in all it was a long and taxing few days … but the weather was nice and the autumn colors beautiful. I was surprised that it was 34 degrees as I swept out the barn on Sunday morning and then 8 hours later 89 degrees while driving through Ohio on my way to Cincinnati.