Posted By RichC on January 10, 2011
My son's hero, as well as one of America's WWII heroes, Major Richard 'Dick' Winters died this past week after battling Parkinson's Disease for the past few years. He was 92 and is well respected for his bravery and leadership during World War II.
Most of us learned of his service in the book and HBO television miniseries 'Band of Brothers' as a young 101st Army Airborne Division officer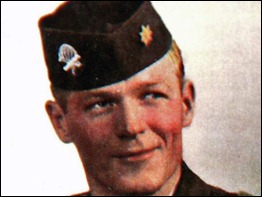 who rose to the demands of leadership as the allies fought to take back Europe from the Nazis. After being dropped behind enemy lines during the invasion of Normandy he assumed command of Company E, 506th Regiment (Easy Company) when his commander was killed. Winters proceeded to lead 13 of his men in destroying an enemy battery and was able to obtain a detailed map of German defenses along Utah Beach.
Then in September 1944, he led 20 men in a successful attack on a German force of 200 soldiers. He and his men occupied the Bastogne area of Belgium during the Battle of the Bulge, where they held their place until the Third Army broke through enemy lines. Shortly after he was promoted to major.
No greater complement comes to an officer but that shown by the respect of the the men he lead and served with. Soldiers like William Guarnere, now 88; he remembers Winters for his "great leadership."  Guarnere commented, "When he said 'Let's go,' he was right in the front. He was never in the back. A leader personified."
Another who served in Easy Company was Edward 'Babe' Heffron, now 87, said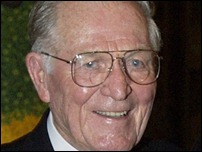 thinking about Winters brought a tear to his eye. "He was one hell of a guy, one of the greatest soldiers I was ever under. He was a wonderful officer, a wonderful leader. He had what you needed, guts and brains. He took care of his men, that's very important."
Dick Winters, born on January 21, 1918, was also an intensely private and humble man. He requested that news of his death be withheld until after his funeral. Winters lived in Hershey, Pa and died in suburban Palmyra on January 2, 2011.
Thank you Dick Winters and all who serve to protect and secure our country.
Addition information:
After returning home, Winters married his wife, Ethel, in May 1948, and trained infantry and Army Ranger units at Fort Dix during the Korean War. He started a company selling livestock feed to farmers, and he and his family eventually settled in a farmhouse in Hershey, Pa., where he retired.

Historian Stephen Ambrose interviewed Winters for the 1992 book "Band of Brothers," upon which the HBO miniseries that started airing in September 2001 was based. Winters himself published a memoir in 2006 entitled "Beyond Band of Brothers."

Two years ago, an exhibit devoted to Winters was dedicated at the Hershey-Derry Township Historical Society. Winters, in frail health in later years, has also been the subject of a campaign to raise money to erect a monument in his honor near the beaches of Normandy.

Winters talked about his view of leadership for an August 2004 article in American History Magazine:

"If you can," he wrote, "find that peace within yourself, that peace and quiet and confidence that you can pass on to others, so that they know that you are honest and you are fair and will help them, no matter what, when the chips are down."

When people asked whether he was a hero, he echoed the words of his World War II buddy, Mike Ranney: "No, but I served in a company of heroes."

"He was a good man, a very good man," Guarnere said. "I would follow him to hell and back. So would the men from E Company."

Arrangements for a public memorial service are pending.

___

Online: http://www.majordickwinters.com/

Winters himself published a memoir in 2006 entitled "Beyond Band of Brothers."