Posted By RichC on January 22, 2011
The husband of a close friend of ours is in the middle of a community awareness and missions project that has been both eye opening for him and a chance to bring community attention to the homeless.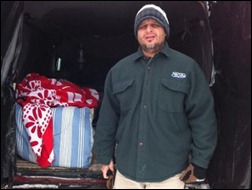 Ryan Riddell, a pastor and real estate agent , is spending the month of January 'homeless' rather than comfortably living in his suburban home. Instead, he is living minimally out of his van and listening to the homeless and sharing God's message of salvation to those he meets. He does his best to fill their needs with the help of others (some spiritual and some physical) and has had his heart softened to the plight of those who find themselves 'homeless' and struggling to survive in his own backyard of Dayton, Ohio.
Ryan's story is being told daily through social networking sites like Facebook and Twitter … as well as through his personal videos posted to his blog, but it is also being told through local and national media. Although I've been watching his daily postings, it was surprising to of his project being posted on so many news sites. According to Ryan, Diane Sawyer, a producer at ABC News called him to talk a bit about what he was doing.
Probably most helpful is knowing ways to help …
Please pray for the people on the streets, and the kids that are "Aging Out" of the system.
Please give to support "New Family Tree" ministry. My hope is that 1000 people would be willing to give as much as they possibly can to help this cause. You can donate online by clicking here.  You can give by sending your check to: Shelter Church – 1541 John Glenn Rd.  Dayton, OH 45410 memo – 30 Days Homeless.  Your donation no matter the amount can help save and transform lives.
Please get the word out – invite your friends and family to this blog, to our facebook site and follow me on twitter. Several of my friends are participating in a "no shave" January as a reminder of the cause and a way to talk about it in everyday life.

Thanks for supporting this ministry. Together we are changing the world.
Here's a recent article from the Dayton Daily News:
DAYTON — When it comes to the important issues of the day, it's usually easier to relate to one person's dramatic story than to overwhelming statistics.

That was the case recently with golden-voiced Ted Williams, the Columbus man who was living on the streets until a newspaper reporter helped turn him into an overnight sensation.

It's also the idea behind local pastor Ryan Riddell's January journey.

The clergyman is hoping to bring awareness to the issue of homelessness this month by sleeping and living in his van on the streets of Dayton instead of in his comfortable Miamisburg home. He seeks shelter from bitter January days at the downtown library or bus hub.

According to Joyce Probst MacAlpine, Montgomery County's manager of housing and homeless solutions, there are about 4,000 homeless in the Dayton area and there was an 11 percent increase in people at local shelters in 2010.

It's the medium that makes Riddell's experiences unique; he's using social media to bring home his message in creative new ways. He's constantly updating his website, Tweeting and posting on Facebook to let followers know when someone he's encountered on the streets needs a pair of long johns, overnight housing or a pair of shoes.

Riddell, bundled up and unshaven, shares his daily reflections through both video and written blogs, appearing on television and radio to tell his story and to grow his audience. He's been featured in media outlets ranging from the Huffington Post to ABC.com, was one of Friday's Intriguing People on CNN's "This Just In."

He's racked up 1,000 friends on Facebook and has had 30,000 hits on his web page.

A minister at Shelter Community Church of the Nazarene in Belmont as well as a realtor for Keller Williams, Riddell, 45, also owns a roofing business in Miamisburg.

"I have four reasons for doing this," he explains. "The first is for my own spiritual renewal. I'm trying to take 30 days to step back from the things I do in the business world and the church."

A second reason, he says, is that "Jesus became like us in order to reach us." Riddell says the more he gets into the world of the homeless, the more receptive people have been, allowing him to be of help.

That help may range from passing out drinks and snacks to locating overnight shelter for someone who has been sleeping in a tent and on the street for months. A growing number of followers, including area church members, are helping him by filling needs as they arise.

For example, earlier this week, Riddell was attending a service and meal at Target: Dayton Ministries when an 18-year-old girl named Samantha asked if he could get her a Bible. Within 45 seconds after he'd posted the request on Facebook, someone had offered to drop off the book at St. Vincent's that night. The same thing happened when Riddell requested a pair of new shoes for a young person who had been wearing the same pair for the past three years.

Ridell says he also hopes to create an awareness of what's happening downtown, just minutes from where many members of his congregation reside.

"We all hang out at the Oregon District, we socialize, eat, find entertainment, but on the other side of the trestle there's a semi-tractor trailer and people are sleeping under that on skids with cardboard for insulation," he says. "I typically drive through there with my windows up and have no awareness of the stuff going on there. I'm trying to live and walk these streets to create an awareness."

Riddell says we all expect our community organizations to "take care of these things."

"I believe that biblically we have a responsibility to cry out and help these people," he says, adding that many of us are quick to insist that the homeless get a job and help themselves.

"These folks are so beaten down and so consumed with basic needs such as food and shelter, it's hard to get out of that hole," he explains.

He is particularly concerned about the kids who "age out" of the foster care system and end up living on the streets. He's working with Salem Church of God in Englewood to help create a new nonprofit organization, New Family Tree, that will provide transitional housing for young people who may have no place to go after age 18.

Riddell insists he isn't "pretending" to be homeless. He set up rules for himself from the get-go: He's sleeping in a van rather than taking up a bed at a shelter, eating alongside the homeless at local food missions by invitation. He's seeing his wife and children and showering twice a week; he carries and uses a credit card when he feels it can help someone.

At first, Riddell says, he was intimidated when hanging out at places like the downtown bus hub. One day, a lady to whom he'd recently sold a house didn't recognize him.

"I had no idea how engaged I would become," he says. "It's gripping me more than I had expected. These weeks on the street have helped me better understand those who are homeless."

"These people have a story," he says. "They have a name and a soul. They want their story told, they want to be heard. They appreciate my being their voice."

For more information, visit Ryan Riddell's website at 30dayshomeless.wordpress.com.

Contact this reporter at (937) 225-2440 or MMoss@DaytonDailyNews.com.