Posted By RichC on March 22, 2011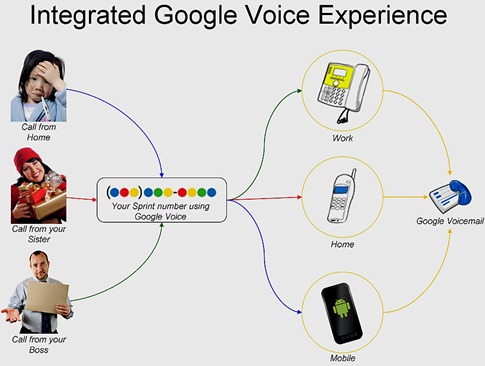 Google Voice will integrate with Sprint phones according to recent press releases from both companies. With the new partnership, Sprint customers will be able use their existing number as their Google Voice (GV) number or be able to use their GV number instead of their cell number for outgoing calls. The features of Google Voice technology will soon be to all Sprint cellphone customers. When a subscriber places a call or send a text message,  they will gain the advantages of the web interface, call blocking, forwarding, ringing multiple devices, and other Google Voice features.
When you enable Google Voice on your Sprint phone, you'll get:

One Number for all your phones Pick the phones you want to ring (home, work, etc.) when your Sprint number is dialed, so you'll never miss a call.
Online Voicemail Check your messages by phone, email, or on the web and keep them for as long as you'd like. Plus, your messages will be converted into text and sent to you via text message or email.
Customization, control & low-priced international calling Create and assign personalized voicemail greetings based on who's calling you, block unwanted callers, mark telemarketers as spam and make international calls at our very low rates.