Posted By RichC on June 13, 2011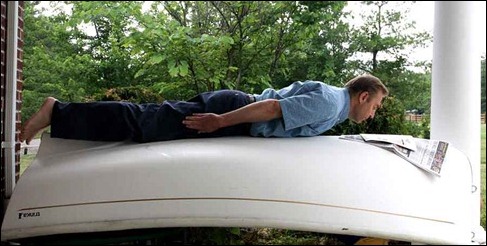 I'm just keeping my kids on their toes … and trying to stay one step ahead of their assumption that I'm just an old 52 year old fuddy duddy dad. Hey, I may not be doing all that much more cliff diving, but am probably in the top ten percent of 50+ year old "plankers!" Oh … so you don't know what it is? LINK



Figured I had better credit my source (below) …
Plankers Are Prone to Pose for Pictures Atop Cars, Camels; It Rivals Lying Down

New Zealand rugby star Chris Lowrey fielded an unusual request while greeting fans after a match two weeks ago. "Plank for us!" one fan yelled.

Mr. Lowrey, 24 years old, knew exactly what to do. The 6-foot-3, 238-pound athlete dropped to the stadium grass, lying face down with a stiff body and arms to his side—emulating a slab of wood—until he was sure fans had enough time to take photographs, which were later posted on Facebook.

The Planking Phenomenon

Ben Jones

The 'Going Green Plank' in Beaumont, Canada.

"It was absolutely incredible, and fans of both teams were unified around the moment," says Deborah Enstrom, 36, who was at the Auckland rugby stadium with her family.

Mr. Lowrey, who had learned about "planking" a few days earlier, says he "was just happy to oblige the fans."

One of the latest kooky Internet fads—planking—is moving into the real world in real-time. The trend involves turning one's body into the shape of a wooden plank that rests rigidly, and often precariously, on chimneys, police cars, trees, basketball hoops, and any other conceivable surface. Some "plankers" do it as prank-like performance art in public spots, while thrill seekers plank in dangerous places and capture the moment on camera, posting the images on Facebook or sharing among friends.

Now the planking "meme," as Internet-based phenomena are called, has gotten so widespread that thousands of plankers are lying down on stairs, towers or busy streets from California to Scandinavia to the Middle East. Some are planking in front of landmarks like Disney World's Cinderella Castle and the Taj Mahal.

To plank, simply lay face down on something, and keep yourself stiff as a board. Don't forget to take a picture! The popularity of planking has risen sharply, even as controversy over the odd sport brews. WSJ's Amir Efrati reports.

The teenage son of New Zealand Prime Minister John Key recently posted a photo of himself on Facebook, planking on a sofa with his father posing in the background.

It has gotten to the point that some say they are already suffering planking fatigue and a controversy has erupted over who invented planking. Some trace the meme to Sam Weckert, a carpenter in Clare Valley, a small town in southern Australia. In January, Mr. Weckert posted a page on Facebook dedicated to planking. More than 16,000 photos of plankers have since been uploaded to it. About 315,000 people have declared themselves "fans" of the page, electing to receive updates when new pictures are posted.

"It's a very simple idea that captured people's hearts," Mr. Weckert says.

But a rival group from England, which in 2007 started a different page on Facebook to celebrate people's ability to lie down on objects, says it should take the credit.

"I find it funny how the Australian makes a game and a Facebook group exactly the same as ours and starts claiming he's invented it," says Gary Clarkson, 28, from Taunton, England, who says he developed "the lying down game" with a friend 12 years ago.

A woodland planker

The global craze has inspired risk-taking, as plankers try to one-up each other. In a high-profile incident last month, a man from Brisbane, Australia, died when he slipped and fell seven stories while planking on a narrow balcony. The incident prompted Australia's Prime Minister Julia Gillard to urge caution.

"Everybody likes a bit of fun, but the focus has to be on keeping yourself safe first," said Ms. Gillard, in response to questions from reporters about the incident.

Mr. Weckert, who says he wasn't aware of the U.K. game, says planking began in 2008 when he and his friends began doing the "worm" dance, a breakdancing move popularized in the 1980s, at local bars. That morphed into lying down as stiff as a wood plank, "getting drinks spilled all over you," he says.

When he was kicked out of bars for the stunt, Mr. Weckert continued planking on top of cars and mailboxes. The practice spread slowly to friends, but lay dormant until he posted the Facebook page in January. After a local radio show mentioned planking, interest rose.

On the fan page, Mr. Weckert lists ground rules. The planker must "lay face down, ensuring your face remains expressionless for the duration of the Plank," with arms placed by the side, legs straight and toes pointed down. Every plank posted online "must be named."

Within weeks there were too many photo submissions—several per minute—to bother upholding those rules. Among Mr. Weckert's favorites: a man planking across the backs of two camels.

If history repeats itself, it repeats even faster on the Internet. In 2007, Mr. Clarkson, who works in marketing for a cosmetics company, set up a Facebook group to share photos of "The Lying Down Game."

The game asks people to lie down on objects, but stiffen their bodies the same way they would if they were standing upright. Toes must point straight out, not down. That Facebook group has more than 20,000 photo submissions and more than 100,000 members.

No matter who started the fad, it has spread like wildfire. In south Australia, two contractors at an oil-processing facility were fired last month after planking on top of 180-foot pipes.

Eight grocery employees and managers in Australia were canned last month after photos emerged of them planking on meat-slicing machines and seven-foot-high shelves, among other things.

"We're now one of many Australian employers who have had to dismiss employees since this fad started," says a spokeswoman for Woolworths Ltd., the grocery and retail chain where the incidents occurred. "An Internet trend is no excuse to breach safety rules."

In the U.S., Austin Light, a 20-year-old student at the University of California, Berkeley, has become obsessed with planking.

"We can't walk around without looking for a new place to plank," he says. He's tried planking at a furniture store, a coffee shop and the Cal basketball team's locker room.

Some are already sick of the fad. Filip Odzak, a childhood friend of Mr. Weckert, says he watched with excitement as planking went viral, and even convinced two dozen models to plank on a runway during a fashion show he organized in February.

Now planking is "so mainstream that it's turned into a pastime for the stupid breed of humanity," says the 26-year-old from Adelaide. Last month, Mr. Odzak revoked his status as a "fan" of planking on Facebook so that he wouldn't receive any more updates.