Posted By RichC on July 2, 2011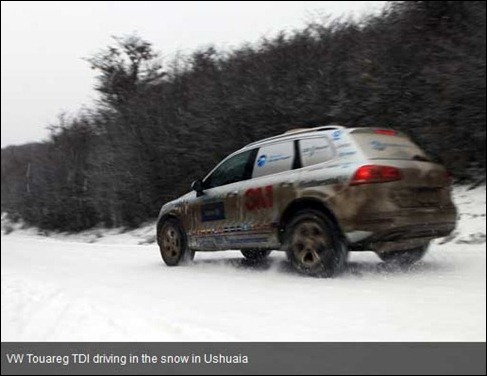 The Panamericana Challenge trip/race/challenge delayed their start by 3 days, but as of 4AM Saturday morning started their drive. The heavy snow near their starting point at the tip of South America which postponed their start of the challenge has been cleared for their VW Touareg TDI and in watching progress on the map show them moving along nicely this afternoon.
Finally, some relief. Last night, our sponsor, Kuehne & Nagel from Santiago, Chile, contacted us with good news. They had spoken with a customs agent at the Andes Pass, the main route connecting Argentina and Chile. He informed them that the snow has stopped falling and that the Pass has been reopened. Twenty additional snowplows have been organized to clear the Pass at 3500 meters above sea level.

The even better news is that now the weather is supposed to be sunny for the next five days, so we can definitely begin the tour on Saturday, July 2nd, 2011 at 4 am.  Things are getting exciting again!
The trip in a VW TDI diesel powered Touareg will make its way from Ushuaia, Argentina in South America to North America's Deadhorse, Alaska in 14 days commemorating the Pan_American Highway. A highlight of the trip is to also showcase the clean diesel Volkswagen Touareg TDI SUV which consumes 30 percent less fuel and produces up to 25 percent lower CO2 emissions than comparable gasoline vehicles. Good luck and have a safe trip.
"We want to celebrate the important role the Pan-American Highway has played in bringing commerce and unity to countries along the route, while demonstrating the power and durability of a clean diesel vehicle. The 75th Anniversary of the Pan-American Highway provides us with a great opportunity to do both," said Rainer Zietlow, manager of the German car event agency, Challenge4 GmbH. "While we've completed a number of long-distance drives, the TDI-Panamericana Endurance Challenge will be one of our most meaningful and exciting challenges to-date."

The Challenge4 crew will drive a single 2011 Volkswagen Touareg TDI® Clean Diesel SUV the entire route, demonstrating how the Touareg's German engineering and powerful engine handle even the most challenging driving conditions. Zietlow chose the Touareg TDI® Clean Diesel for its durability, high-performance and long-range fuel efficiency. Its turbocharged 3.0L V6 TDI® engine, which delivers 225 horsepower and 406 lb-ft of torque, is designed to perform on rugged terrain and mixed road surfaces at varying altitudes.

Additionally, as a clean diesel SUV, the Touareg consumes 30 percent less fuel and produces up to 25 percent lower CO2 emissions than comparable gasoline vehicles. The Touareg's TDI® clean diesel technology is a key component of "Think Blue.", the philosophy behind Volkswagen's holistic approach to preserve the environment through fuel-efficient, high-performing vehicles; sustainable production and advanced technologies.

As with all of his previous challenges, Zietlow will donate 10 Euro cents for each kilometer driven during this trip to two villages in Latin America managed by Plan International, a charity organization that works in 48 developing countries to promote children's rights and lift millions of children out of poverty.

In addition to Volkswagen, a number of other major sponsors are supporting the Challenge.