Posted By RichC on December 10, 2011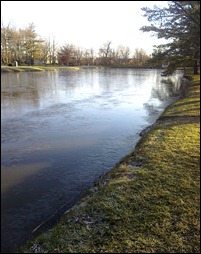 After a few flurries and cold temperatures last night, we woke to the first ice on the small lake in front of our house this morning. Brrr … I'm not ready for winter yet.
 


Preparing for Christmas on the other hand, is in full swing as I hauled home a tree last night finishing off a gift debit card that I've been saving for just such a purchase. The price seemed about the same as last year, but after putting the Frazier Fir in the usual spot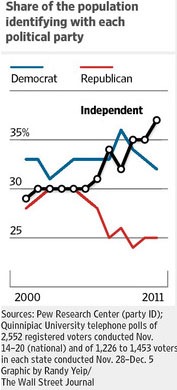 I realized it wasn't quite as big as in previous years (Taylor will be disappointed).
I'm also posting a thought before I forget to include the archived audio from this past week and some concerning polls looking at those who identify themselves as Independents. The results aren't all that positive for Republicans … or for those desiring the leadership in America come from a more conservative slant. (see Independent, Democrat and Republican percentages in WSJ graph on right)
First a surprising projection from founder and CEO of Moelis and Company's Ken Moelis. He raises concern for those wanting a smaller and less intrusive federal government in believing last minute political moves will secure another 4 years for President Obama. In an interview on CNBC, he believes there will be an agreement this summer on cutting the budget and federal spending which will both keep Obama in the Whitehouse and some "up for re-election" legislatures in their seats.
CNBC: Ken Moelis, Founder/CEO Moelis & Co.
Disturbing but logical … as can also be seen in recent polls (below – click for larger or WSJ link).