Posted By RichC on June 28, 2012
It was great to see a couple Volkswagen friends last night for a couple hours, even if we didn't actually solve any of their problems. We used the computer and Vagcom software to pull codes on a Passat 2.0 turbo and Passat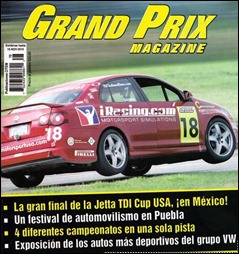 TDI to hopefully diagnose the reason for the check engine light, but both were intermittent and the codes readings didn't point to any particular problem. I did a reset and we'll see what happens.
The 'gasser' Passat also had a nasty squeal that for the life of us couldn't be pinpointed. I'm hoping to get some feedback if only to eventually find out what was making the noise – we ruled out everything that runs off the belted systems (unless there is something that continues to spin?) and the two radiator cooling fans. I don't think it is the turbo but am curious as if there is some other electrically powered motor that spins a small flywheel or something???
On a totally different note … I loved this Wyatt Gooden Racing magazine photo.