Posted By RichC on August 29, 2012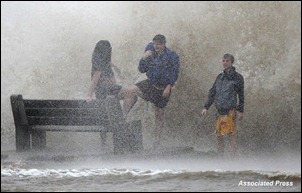 Hurricane Isaac s-l-o-w-l-y made its way ashore in Louisiana last night bringing 80mph winds and torrential rains. The category 1 storm may not have packed the punch associated with tight eye-walled hurricanes, but because it is moving at only 8mph, it dumps rain for a much longer period of time.
Early reports are that a parish levy has been topped outside of the city, but that the new and improved 14 billion dollar levies are holding as engineered. About 75% of New Orleans residents are without power and there is some minor street flooding, according to emergency officials.
Isaac's center is expected to move over Louisiana on Wednesday and Thursday and should cross into southern Arkansas by early Friday.