Posted By RichC on July 23, 2013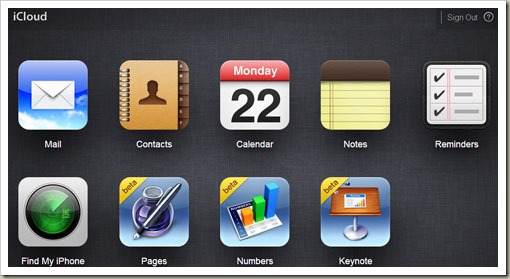 Apple is testing a few new online iWork applications for those iCloud users accessing their cloud account. The addition of Apple's document, spreadsheet and presentation software to iCloud will move the beloved computer company one step closer to Microsoft and Google went it comes to online "Office" productivity software.
I'm reluctant to commit to one particular system still preferring Office as an "install" on my computer, but with Microsoft's move to Office 365 and the subscription model, one of the Office-like open-source software packages looks to be my current preferred direction … but I will still give Apple's Pages, Numbers and Keynote a try, even after Google's online apps continue to fall short.
We'll soon be introducing a new and exciting feature to iCloud. It's called iWork for iCloud and it's a suite of apps — Pages, Numbers, and Keynote — that make it easy for anyone with an iCloud account to create and edit great-looking documents, spreadsheets, and presentations right on the web.

We'd like to invite you to be one of the first to try it, so we're giving you early access to the iWork for iCloud beta. All you have to do is sign in to iCloud on a Mac or a PC using the current version of Safari, Chrome, or Internet Explorer. Then just click on Pages, Numbers, or Keynote and you're off.

We're really proud of these apps and we'd appreciate your help in making them as great as they can possibly be. So we'd love to hear your feedback as you use them.

Sign in to iCloud.com to get started with iWork for iCloud today.

Sincerely,
The iWork Team