Posted By RichC on September 28, 2013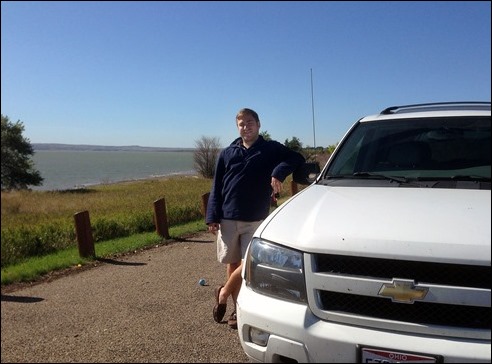 This past week I flew up to Williston, North Dakota to help my son Taylor move into his new apartment. My expectation were low and so the brand new apartment with easy access to everything made for a very positive first impression.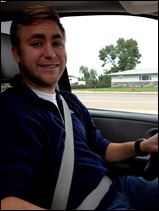 Taylor drove his late grandfather's "loaner vehicle," a Chevy Trailblazer, from Cincinnati to North Dakota with the U-Haul trailer a few days prior to the arrival of his "slave labor" (aka, me). He also enjoyed a couple days in Minneapolis with a friend from high school and his cousin Justin and family. The drive was long and he (we) really appreciated their hospitality as a way to break up his trip.
Taylor and I unloaded in no time and headed out to eat and off to the Walmart to pick up a few forgotten items; there are a few more forgotten items being shipped up in a care package from mom as off today. We spend the next day making a few phone calls, setting up his Fedex box and exploring a bit of the area. We also drove 20 miles on both newly paved roads and questionable gravel roads  to Lake Sakakawea and Lewis and Clark State Park. The weather couldn't have been nicer for a bit of hiking around the lake and exploring the shoreline; we even collected some sands and a couple rock for Brenda (she collects samples when possible from everywhere we go). The lake is big, the third largest manmade lake in the U.S. and is formed by the earth-filled Garrison Dam on the Missouri River (map). It's a nice recreation area … although a bit desolate.

By the time it was time to go, we had pretty much covered all there is to see in Williston. I got the chance to meet a few of the people he will be working with in the Williams County Planning and Zoning department, but unfortunately not his boss (he was away at a meeting down-state). Everybody I talked with was very nice and besides the remote location, I think Taylor will learn a lot and enjoy his first "real job."
Leaving was actually more challenging for me that I thought since Taylor has always been independent and regularly been away from home. In junior high he was a student ambassador and traveled for a month in Europe. He has taken mission trips to Romania and spent a summer at Norwich University in Vermont at a leadership camp. Throughout college he's lived away from home and we've gone for months without seeing him … but for some reason, North Dakota felt different. It probably has something to do with the distance and the fact he is moving their alone. I'm sure it will seem challenging for him at first too, but knowing his social nature, it won't be long before he makes a few new friends.
Here are a few photos downloaded from my phone.