Posted By RichC on October 10, 2013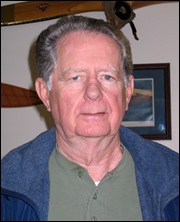 A long time friend and fellow EAA284 chapter member Ken Miracle passed away last week and his family will be holding a gathering and a memorial service this Friday evening  (10/11) and Saturday morning (10/12). I regret being unable to attend.
Ken was one of the first EAA guys to befriend me when I joined the local aviation chapter many years ago and he continued to be my buddy whenever we'd work on chapter projects. He is the man I think of when I hear someone called a "gentleman" …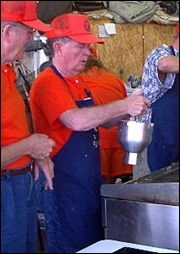 he was perhaps the most "gentle" man I have ever know (those who have met him will know what I mean). I will miss working with Ken … be it tinkering on hanger projects or flipping pancakes at the Taildragger Fly-in.
Bob Luken shared a comment from his wife Barbara: "In July, our daughter took us down to the Waynesville Airport … on a Saturday.  A beautiful day…. sunny with beautiful white clouds … Ken sat in the SUV with the windows down and enjoyed watching all the action.  Lots of planes coming and going and he would tell us about each one.  That was a good day for him!  We had ice cream at McDonalds in Waynesville before taking him back to the nursing home.  A good memory."
Ken Miracle

Kenneth F. Miracle, age 80, of Xenia, went to be with the Lord on Tuesday, October 1, 2013 at the Greene Memorial Hospital. He was born March 13, 1933 in Manchester, Ohio the son of Silas and Opal Miracle.

He was preceded in death by his parents and brother: Robert Miracle.

Ken was a proud graduate of Lockland High School, Class of 1952. He was a four year veteran of the US Air Force in the air-sea rescue. A graduate of Miami University, he taught at Springfield North and Xenia High School, before retiring from Greene County Career Center. He loved flying and was a private pilot and club member at the Waynesville Airport. A faithful Christian at First Church of Christ, he loved serving in the area of Missions, and was helpful on many other projects.

He is survived by his wife of 53years, Barbara (Poll), sons: Kenneth S. (Terri) of San Diego, CA; daughters: Lisa (Rich) DeWees of Macon, GA; and Lori (Russ) Lawrimore of Jacksonville, FL; grandchildren: Kyla and Colter DeWees, Nicholas and Sam Lawrimore; sisters: Mildred Bollmer, of Mason, OH, and Joan (Mike) Foster of Jacksonville, FL; brothers: Ric Miracle of Bradenton, FL and Don (Chris) Miracle, of Denver, CO; as well as several nieces, nephews, other relatives and a host of friends.

A Gathering of Friends will be held 6-8 pm Friday October 11, 2013 at First Church of Christ, 441 Ledbetter Road, Xenia. A Memorial Service will be held 11 AM Saturday, October 12th at First Church of Christ. Interment will be in Arlington Memorial Gardens in Cincinnati. In lieu of flowers, contributions may be made to the First Church of Christ, Missions Fund, 441 Ledbetter Road, Xenia, 45385.