Posted By RichC on November 20, 2013
I listened to an older NPR story forwarded to me after a book conversation with a friend after we discussed leadership qualities companies value.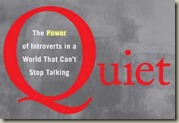 The book Quiet: the Power of the Introverts in a World that Can't Stop Talking by Susan Cain offered an interesting perspective and set up an analysis regarding where on the spectrum between introvert and extrovert we scored.
Besides analyzing my introverted leaning self, my semi-introverted daughter and extroverted son and wife (chuckling), I began analyzing those I know in the workplace and in leadership positions; for the most part the extrovert leaning people do get recognition and rise to managerial positions.
I also realized that most larger companies prefer teamwork as compared to working alone in how their offices are set up and read that "the average amount of space per employee has decreased from 500 sq ft in the 1970s to 200 sq ft today." Hmm, sounds like a small cubical to me … but I guess gone are the days of the private office?
The quiz below, although not scientific, seems a good predictor of just how introverted you might be. For the good or bad, I'm pretty close to scoring 100%.


Quiet Quiz: Are You an Introvert or an Extrovert?
To find out where you fall on the introvert-extrovert spectrum, answer each question True or False, choosing the one that applies to you more often than not.
1. ______ I prefer one-on-one conversations to group activities.
2. ______ I often prefer to express myself in writing.
3. ______ I enjoy solitude.
4. ______ I seem to care about wealth, fame, and status less than my peers.
5. ______ I dislike small talk, but I enjoy talking in depth about topics that matter to me.
6. ______ People tell me that I'm a good listener.
7. ______ I'm not a big risk-taker.
8. ______ I enjoy work that allows me to "dive in" with few interruptions.
9. ______ I like to celebrate birthdays on a small scale, with only one or two close friends or family members.
10. ______ People describe me as "soft-spoken" or "mellow."
11. ______ I prefer not to show or discuss my work with others until it's finished.
12. ______ I dislike conflict.
13. ______ I do my best work on my own.
14. ______I tend to think before I speak.
15.______ I feel drained after being out and about, even if I've enjoyed myself.
16. ______I often let calls go through to voice mail.
17. ______If you had to choose, I'd prefer a weekend with absolutely nothing to do to one with too many things scheduled.
18. ______ I don't enjoy multitasking.
19. ______ I can concentrate easily
20. ______ In classroom situations, I prefer lectures to seminars.
The more often you answered True, the more introverted you are. This is an informal quiz, not a scientifically validated personality test. The questions were formulated based on characteristics of introversion often accepted by contemporary researchers.
From Quiet by Susan Cain. Copyright 2012 by Susan Cain.