Posted By RichC on November 21, 2013
Partisanship and opinions aside a moment, I took a serious look at the Affordable Care Act and exchange pricing just to see what it might cost IF one was to retire early and purchase heath care on the exchanges. As a resident of Ohio (or Florida), which both have federally run exchanges, the monthly outlay is substantial for relatively healthy individuals seeking the minimum coverage allowed even before a single doctor visit.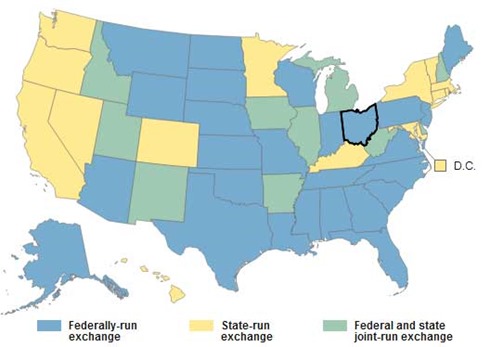 The new Affordable Care Act law requires all Americans carry a minimum level of coverage, which includes health services many of us would not (or did not) purchase throughout our entire lives …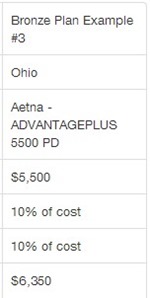 but the federal government knows best (ok, got my partisan comment out of the way). The cheapest exchange approved Bronze policy has a high yearly out of pocket deductible which is substantial. In order to purchase this plan, a couple in Ohio needs to pay nearly $440/mo ($5380/yr) in 2014 year plus reach a $5,500 deductible. If by chance a pre-Medicare couple were to relocate to the "aging" state of Florida, the yearly Affordable Care Cost would be even higher, running $515/mo or $6180 per year … plus the out of pocket deductibles per year. If you should need to use the insurance for more than wellness care (after reaching the deductible), the maximum out of pocket a couple would spend before the insurance takes over is $12,500 each year.
One of the major downsides to nationally mandating what policies we "must" purchase is that individuals have lost the freedom to choose the kind of insurance coverage they want. For example, "if" I were to retire early, I'd like to be able to negotiate my well care with my doctor and purchase a policy which strictly covered medical expenses beyond what I can budget. Maybe I would prefer and illegal but less expensive "affordable" policy even if it were to only kick in after $10,000 or so out of pocket?
I also read an opinion piece this week in the WSJ which illustrated the problem being create for those of use who believe in personal responsibility and individual liberty.
My mother preferred to pay for her care rather than be on the government dole. Now she has no choice.

by NICOLE L. HOPKINS | Nov. 20, 2013 7:13 p.m. ET

My mother is not one to seek attention by complaining, so her recent woeful Facebook post caught my eye: "The poor get poorer." It diverged from the more customary stream of inspirational quotes, recipes and snapshots from her tiny cottage in Pierce County, Wash.

The post continued: "I just received a notice: 'In order to comply with the new healthcare law, your current health plan will be discontinued on December 31, 2013.' Currently my premium is $276 and it is a stretch for me to cover. The new plan … are you ready … projected new rate $415.20. Now I can't afford health insurance."

The unaffordable ObamaCare-compliant plan that her insurer offered in a Sept. 26 letter is not what makes my mother's story noteworthy. Countless individually insured Americans have received such letters; many are seeing more radical increases in premiums and deductibles.

But most of these people are still being offered the chance to choose what health-care insurance they will receive, or to opt out before they are automatically enrolled in a state program. Not so my mother, Charlene Hopkins, as I soon discovered when I called after seeing her Facebook post.

Since she couldn't afford the new plan offered by her insurer, she told me she was eager to explore her new choices under the Affordable Care Act. Washington Healthplanfinder is one of the better health-exchange sites, and she was actually able to log on. She entered her personal and financial data. With efficiency uncommon to the ObamaCare process, the site quickly presented her with a health-care option.

That is not a typo: There was just one option—at the very affordable monthly rate of zero. The exchange had determined that my mother was not eligible to choose to pay for a plan, and so she was slated immediately for Medicaid. She couldn't believe it was true and held off completing the application.

"How has it come to this?" she asked in one of our several talks over the past few weeks about what was happening. When she was a working mother and I was young, she easily carried health insurance for our whole family. "How have I fallen this far?"

In 2011, she had to give up her real-estate license; as a newer agent, she did not stand to earn enough in the tough market to justify the fees to renew. She has since managed to eke out a living as a substitute para-educator in the Central Kitsap School District. "I'm not on the couch, watching TV," she said. "I'm out trying to find more work every day."

Unable to secure employer-sponsored health care, she had, until this fall, chosen to pay $276 a month for bare-bones catastrophic coverage. "I think that we should be able to take care of ourselves and to earn enough money to pay for basics, and health insurance is one of them," she told me. For two years she had paid out of pocket for that plan, but now she is being told that the plan isn't good enough for her.

The Sept. 26 letter from my mother's insurer promised that the more expensive plan "conforms with the new health care law"—by covering maternity needs, newborn wellness and pediatric dental care. My mother asked: "Do I need maternity care at 52?" In addition to requiring her to pay an extra $1,677 annually, the plan would have increased her deductible by $1,500.

But she had at least been presented with an option that she could turn down, unlike on the state exchange.

The situation sounded absurd, so I asked her to walk me through her application on Washington Healthplanfinder to make sure she wasn't missing anything. Sitting in New York with my computer, I logged onto the site under her name and entered the information my mother provided over the phone. I fully expected her to realize that she had forgotten some crucial piece of information, like a decimal point in her annual income. We checked and double-checked the information, but the only option still appeared to be Medicaid. She suggested clicking on "Apply for Coverage," thinking that other options might appear.

Instead, almost mockingly, her "Eligibility Results" came back: "Congratulations, we received and reviewed your application and determined [you] will receive the health care coverage listed below: Washington Apple Health. You will receive a letter telling you which managed care plan you are enrolled with." Washington Apple Health is the mawkish rebranding of Medicaid in Washington state.

The page lacked a cancel button or any way to opt out of Medicaid. It was done; she was enrolled, and there was nothing to do but click "Next" and then to sign out.

Of course, Medicaid is not a new option for my mother; she knew that she was poor enough to qualify for cost-free health care. It was a deliberate choice on her part to pay that monthly $276 out of her own pocket. Clearly she had judged that she received a personal benefit from not being on Medicaid.

"I just don't expect anything positive out of getting free health care," she said. "I don't see why other people should have to pay for my care, whether it be through taxes or otherwise." In paying for health insurance herself—she won't accept help from her family, either—she was safeguarding her dignity and independence and her sense of being a fully functioning member of society.

Before ObamaCare, Medicaid was one option. Not the option. Before this, she had never been, in effect, ordered to take a handout. Now she has been forced to join the government-reliant poor, though she would prefer to contribute her two mites. The authorities behind "affordable care" had erased her right to calculate what she was willing to spend to preserve her dignity—to determine what she thinks is affordable.

That little contribution can mean the difference between dignity and despair.

For the truly poor, being institutionally forced to take welfare is demoralizing. The Affordable Care Act is at risk of systematizing learned helplessness by telling individuals like my mother that they cannot afford to care for themselves in the way they could before the law was enacted. "This makes me feel poorer than ever," she said.

My mother grew up, one of six children, in a dairy-farming family in Wisconsin. "The way I was raised, taking government handouts is shameful," she said. Her siblings stayed in Wisconsin, but she set out on her own. Finding herself forced onto Medicaid is not a fate that she ever would have imagined. "I guarantee I'm the only person in my family in this situation."

I'm proud to see the spiritedness and resolve that bears my mother up even now. Such character does not draw attention to itself: Its spark only catches the eye when oppression seeks to snuff it out.

Ms. Hopkins is a writer in Brooklyn, N.Y.