Posted By RichC on December 29, 2013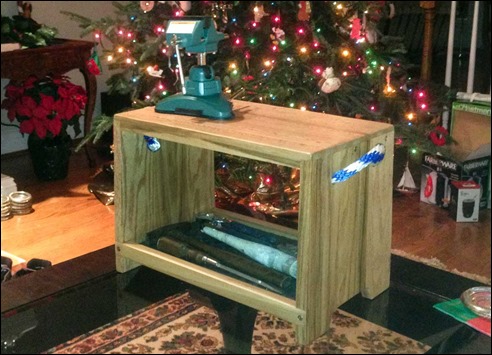 My cousin Diane and I exchanged Christmas greetings and updated each other with the goings-on of our families on Friday night. While talking about gifts, I realized that I didn't have a photo of the "Tool Stools" that I made for Taylor and Drew. Since one of them was still at home, I took a photo and sent it to Diane … and then decided it should be included and archived on the blog.
The Tool Stool idea came from an old beat up plywood stool that I regularly use in the garage and workshop. It's a perfect height for crouching and working on a car and is great for holding tools, as a small bench or a small sawhorse.  I even used it for years in place of a tailwheel on my airplane project for years.
Instead of a junky plywood tool stool, I decided to glue up hard maple and oak strips for the step/top and rabbeted to the oak sides in order to "show off" the end grain … and to make it butcher block durable. I gave it a slight nautical flare with rope handles and tapered the sides slightly to give it more stability – helpful when using as a step stool (I thought it looked nice too). I added pads to the feet so it wouldn't scratch wood or tile floors (unlike mine!) and a small suction cup mountable vice which the boys can use elsewhere.
The other purpose for the "tool" stool was as a way to give the boys a few of my late father-in-law's "well worn" tools. A couple tools were also hand me downs from their great grandfather who was a furniture craftsman in Jamestown NY. All in all Dad Howard's tools and the new stools were very much appreciated by both Taylor and Drew … although am not sure if they will get as much abuse as I initially intended?