Posted By RichC on September 16, 2013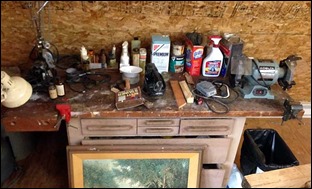 We are in countdown mode on a couple of fronts: 1) Taylor is wrapping things up for his move to North Dakota in a few days and 2) our family is working to close out Brenda's mom's "life in Jamestown, New York." I am sad on both counts, but know that both changes are for the best.
We made a quick trip to NY this past weekend in order to drive back the Chevy Trailblazer for Taylor to borrow. His VW GTI is not the right car for Williston, ND … and will not pull a U-haul trailer. I was going to have him take my Honda Pilot, but that would leave me without my "occasional" hauling and delivery vehicle going into winter. Grandma offered to let Taylor take her car since it was sitting anyway. A great help. I'm including a couple memory photos from Grandpa's workshop … as it was left behind.