Posted By RichC on January 13, 2015
The first ever College Football Playoff Championship game will determine this season's best college team as the National Championship game starts in about and hour. The game with see the Pac-12 champion Oregon Ducks against "our" Big Ten champion Ohio State Buckeyes. Odds makers favor the Ducks by 7.
Both teams have have had an outstanding year, although few expected Ohio State to even make it to the big game (seeded again #1 rated Alabama in the ), particularly since they are down to their 3rd string quarterback. BUT … football being a team sport saw the Buckeyes come together and rally behind their talented running back Ezekiel Elliot and quarterback Cardale Jones. The question is, can they even compete against Oregon who crushed the Florida Gators 59-20.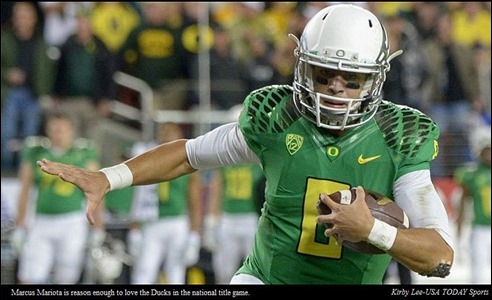 The Ducks have Marcus Mariota, an extremely talented Heisman Trophy winner leading their team and if he plays even half as well as he did in the Rose Bowl, Oregen will be a challenge for the battered Buckeyes. For now … it is nearing the pre-game and I still have supper dishes to clean up! (Written Pre-game)
Tune in … ESPN.
The Ohio State faithful couldn't have been happier as the high speed Oregon offense was matched and beaten by a strong showing by every member of the Buckeye defense who kept the Ducks to 20 points. The Buckeye's young offense did their part … and more … by dominating the clock and controlling the ball on the ground. Ezekiel Elliot and the OSU offensive line tired the Ducks defense and even with 4 giveaway turnovers were able to score 42 points. The most amazing player had to be the young 3rd string Buckeye quarterback Cardale Jones won made his 3 career start in this National Championship game. He was the picture of calm control and used his strong downfield arm and 6′-5″ 250 lbs size to keep a series alive. I'm not sure Urban Meyers would have wanted a different leader. Congratulations to all those who made us proud to be from Ohio.
Ohio State 42 – Oregon 20