Posted By RichC on February 6, 2015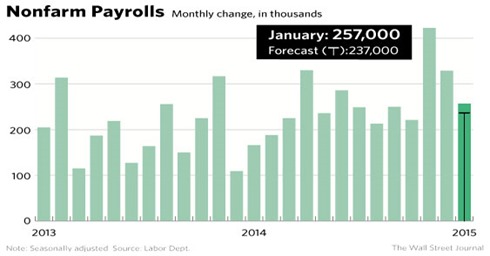 While watching my Twitter feed and tuning into Squawkbox on CBNC (my usual morning routine), the excitement was notable particularly since partisans on both sides of the political spectrum spar to take credit for improving numbers.

We do seem to be on a trajectory of adding jobs consistently which should eventually put pressure on employers to increase wages … if the government doesn't beat them to it in "legislating" new minimum wage laws (let the market dictate IMHO). 
One of the positive stories that brought together both jobs and the US consumer economy was Buffalo Wild Wings $BWLD reflecting on a good quarter and the 11 million wing they sold during Superbowl XLIX Sunday. CEO Sally Smith (pictured) in her exchange with Squawkbox regulars and guest indicated that 1.2 Billion wings were sold which lead to a semi-comical discussion about numbers of chickens … and one pretty funny comment from Barney Frank toward host Joe Kernen.
CNBC – Squawkbox (MP3) Barney Frank to Joe Kernen – Feb 6, 2015
I agree with Charles Plosser that the Fed needs to begin moving "ever so slowly" as they don't want to get behind the curve.
"This is not a crisis economy anymore." said @CharlesPlosser on @SquawkCNBC believing the Fed needs to "move off the zero balance."

— Rich Corbett (@RichC) February 6, 2015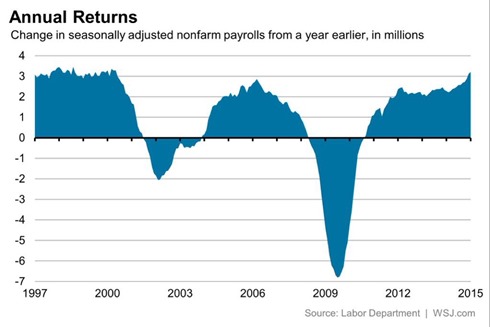 U.S. employers hired steadily last month and workers' wages picked up, suggesting the labor market is moving closer to full health more than five years after the recession.

U.S. nonfarm payrolls grew by a seasonally adjusted 257,000 jobs in January, the Labor Department said Friday. And job creation was far stronger in prior months than previously estimated, with the government raising its estimates of new jobs in November and December by a combined 147,000. November's reading of 423,000 jobs added marked the strongest month of private-sector hiring since 1997.