Posted By RichC on June 30, 2016
Yes …music post was just made yesterday but I can't help myself in adding a #Throwback Thursday post another classic song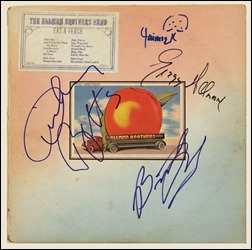 (I think the #TBT trend is starting to fade?). 
"Blue Sky" is a Dickey Betts (band member) song from the Allman Brothers double album "Eat a Peach" (1972) after band leader Duane Allman was killed in a motorcycle accident.  If you were alive during that time, you will probably recognize the sound, but more likely know their hit single a year later, "Ramblin' Man." For those who enjoy the Allman Brothers  … and the reunions (1st and 2nd) … the recordings or live performances often exhibited expected "jam sessions" that would stretch on long past the normal 3-5 minute song cuts (15 minutes or more was not uncommon).
The band has performed great music throughout the years as individuals and as a group. They were all talented, but unfortunately in an age of drugs and alcohol  … and motorcycles (twice) … faced some dark days in the middle of their skyrocketing success. For all the sorted history, Wikipedia does an acceptable write-up.
| | |
| --- | --- |
| | Allman Brothers | Blue Sky from "Eat A Peach" 1972 |
Adding a "pick me up" Reggae remake from Jimmy Cliff – "I Can See Clearly Now" … because I can!