Posted By RichC on October 2, 2016

This past week I've made a few frustrating online transactions and purchases. First, in dealing with NewEgg, I attempted to use a credit on my business account and decided to handled it on the phone with customer service rather than risk it online. I explained that I was using a "store credit" and wanted to pay the difference with a credit card. The transaction went through, but the credit did not … so I called back to adjust and instead the next customer service rep voided the order entirely and processed a credit. He then indicated the credit could take up to a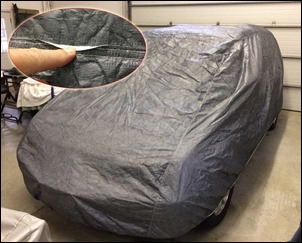 week to be issued and appear. Great … the purchase was canceled … my card charged and won't be credited for a full week! He then attempted to process a repeat order this time applying the credit and notified me that the item was "out of stock" and that that I should call back next week. Unbelievable!
On to problem number two:
I bought a replacement cover for my 2001 Honda Odyssey which I leave in the harsh sun of Florida November thru June. Last year's cover made it only one season and did not come with a warranty, that I know of? So this year, I opted to try a cover from BudgeIndustries who offer a hard to believe 10-year warranty. It seems like a long time for an outdoor car cover,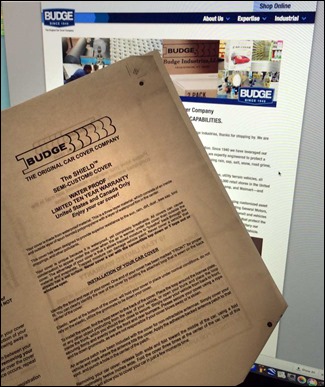 but it will be interesting to see if they stand behind it? The cover looks to be slightly better material, but lacks the straps that go under the car, the mirror pockets and I noticed some sloppy stitching(see circled photo above). I'm hoping they will stand by their warranty.
Finally problem three:
I'm completing the Generator Cage project, I realized the really nice power cord my friend Mark gave me was going to be too short. After pricing the wire locally, I "foolishly" opted to pick up some cheaper wire on eBay … and NOW I know why it was cheap. The exterior coating that is usually a solid rubber material and protects the heavier stranded 10 ga wire inside was somewhat brittle. On bending it, it cracks easily and does little to protect the wires inside. In fact the insulation on the wires inside aren't anything to write home about either — likely made in China with very questionable materials (cheap, cheap, cheap). The cost to return this fairly heavy wire would be too much so opted to use it for my home generator extension … where I won't be flexing or walking on it regularly. To top it all off, I paid for 20 feet and received what looks to me about 19-1/2 feet.
The old adage is true in this case … "you get what you pay for."