Posted By RichC on January 25, 2017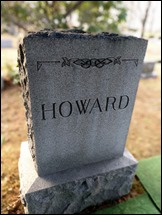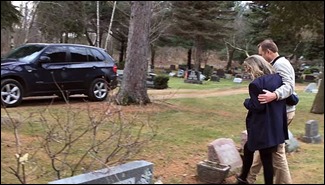 Memorials, funerals and burials can be emotionally draining and it is hard to know just how they impact each of us … but "to the person," those that knew mom – grandma – Frances Ann Louise Howard (Holmstrom), were without question happy and celebrating.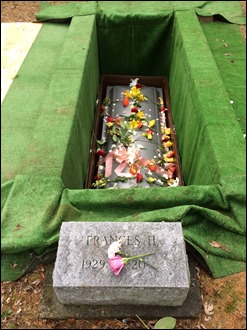 Fran and Christians who have placed their faith in Jesus, and in the teachings in scripture, are comforted by God's promise of "salvation and eternal life (John 3:16)." We know beyond a shadow of a doubt where MomH has gone – Heaven is her home … and only her earthly shell remains. Of all the people I have known, Brenda's mom exemplified unwavering faith and never questioned or struggled with the Sovereignty of God. She was one person truly prepared for death and looking forward to Heaven … what a great feeling to be happy for her.
This past weekend we had a good time together as family. The cousin get along so well and each looks forward to being together. It is a shame we all live so far apart and live such busy  lives. Most of us realized this could be one of our last trips as a family to Jamestown, New York and took advantage of the usually warm and mild winter weather to reminisce … and repeat many of the same pleasurable and memorable stories from the past. On Saturday, a few of us drove by "Granny's" house (Mabel Howard, DadH mom) in Brocton, NY after the burial and also visited Lakeview Cemetery where Mark Howard (Brenda's brother) is buried (his children are Jackie, Justin and Aaron in photo below). While on the "reminiscing tour," we also drove by the office where both Dr. Mark and Dr. Fred Howard practiced dentistry on Lakeview Avenue in Jamestown. The three sisters and each of the grandchildren have fond memories of going to have their teeth worked on (who can say that about visiting the dentist!) … as well as painful memories like seeing their father lose a son, a sister a brother, a wife (Lynda) a husband and  child a father at 40 years old. I'm forever amazed as the resilience in people after that kind of loss.
Several in the Howard family are great with words and gave thoughtful and sometimes humorous stories at MomH's memorial service. Pastor Jim offered his professional as well as personal remarks at both the memorial at Lind Funeral Home and at Evergreen Cemetery in Portland, NY for the burial. I'm archiving the video, as I did for Brenda's dad, in case some want to hear the words and see a few photos (at the end of video below or the YouTube version here) … besides, we likely all need a refresher on the Linda Ellis "Living Your Dash" poem.