Posted By RichC on October 5, 2017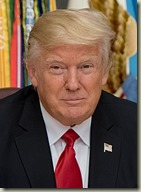 One may have thought that the divided nation after the election and political chaos in putting together an administration that worked well together would have been the biggest challenge for the unconventional President Donald Trump when it comes to being POTUS, but after the last 30 days you would be wrong. The president has faced not only three major hurricane strikes on the U.S. and territories, but now the deadliest shooting in our history … and all about the same time.
I know my opinion is debatable from those who dislike (or despise) President Trump, but his administration's handling of Hurricane Harvey in Texas and Louisiana, Irma in the Virgin Islands and Florida and Maria in the USVI and Puerto Rico exceptionally well. Never would have thought the U.S. would have had so much devastation in such a short time. Those being critical as to the president's and government's response to these natural disasters are not seeing clearly.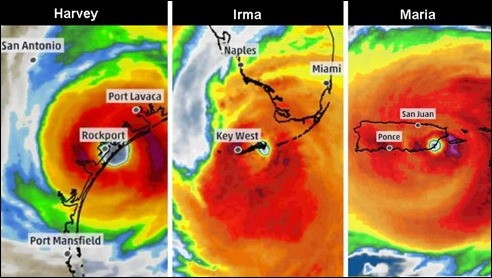 As if the three natural disasters were not enough of a test, the Las Vegas shooting this past week required President Trump to be comforting and compassionate, all the while deflecting hate from the anti 2nd-Amendment left. Trump arrived in Las Vegas Tuesday after a trip to Puerto Rico on Monday. As someone who supports our president, I've been somewhat tepid to applaud his off the cuff words/tweets and style (also supported President Obama, but critical not of his style, but of his liberal policies and philosophy).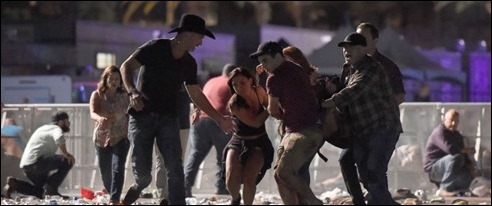 During the Route 91 Harvest country music festival outdoor on the Las Vegas Strip in Paradise, Nevada, 64 year old Stephen Paddock opened fire from the 32 floor of the Mandalay Bay Resort and Casino. He sprayed the crowd of about 22,000 attendees with a variety of weapons he had hauled up to his room. The shooting was planned for at least several days, although a motive is not known at this posting. Hundred if not thousands of rounds were fired in the 15 or so minutes it required for the police to make it to his room, at which time the shooting had stopped. Prior to breeching the hotel room door, Paddock killed himself. The mass shooting left 59 dead and 489 people injured. Acts of heroism abound as stories of people covering others with their bodies and citizens helping each other. Without those heroic acts, no doubt many more of the injured would have been fatalities. 
We as a nation once again mourn a senseless killing that at this time makes little sense. Citizens quickly run to their predictable political position while "some" leaders look to capitalize on such a tragedy to use emotion as a trigger for change. Right or wrong … there are few ideas likely to stop individuals intent on killing whether they use guns, bombs, poisons, planes or everyday trucks and cars.