Posted By RichC on October 4, 2017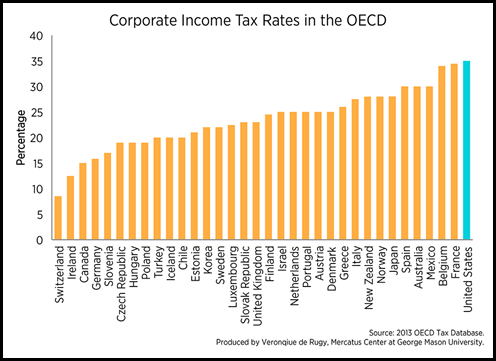 A little bit of research highlights which of the Dow 30 companies benefit from corporate tax reform and which one are currently better at working the existing complex tax code.
Company Ticker Median effective income-tax rate – past five reported quarters
UnitedHealth Group Inc. US:UNH 40%
Home Depot Inc. US:HD 36%
Verizon Communications Inc. US:VZ 34%
Walt Disney Co. US:DIS 33%
McDonald's Corp. US:MCD 33%
American Express Co. US:AXP 32%
Wal-Mart Stores Inc. US:WMT 31%
Visa Inc. Class A US:V 29%
3M Co. US:MMM 28%
Caterpillar Inc. US:CAT 28%
J.P. Morgan Chase & Co. US:JPM 28%
Goldman Sachs Group Inc. US:GS 27%
United Technologies Corp. US:UTX 26%
Apple Inc. US:AAPL 26%
Travelers Cos. US:TRV 25%
Boeing Co. US:BA 24%
Procter & Gamble Co. US:PG 23%
DowDuPont Inc. US:DWDP 22%
Intel Corp. US:INTC 22%
Exxon Mobil Corp. US:XOM 21%
Coca-Cola Co. US:KO 21%
Cisco Systems Inc. US:CSCO 21%
Merck & Co. US:MRK 21%
Johnson & Johnson US:JNJ 19%
Pfizer Inc. US:PFE 18%
Chevron Corp. US:CVX 14%
Nike Inc. Class B US:NKE 14%
Microsoft Corp. US:MSFT 12%
International Business Machines Corp. US:IBM 10%
General Electric Co US:GE 1%
Source: FactSet
As for S&P 500 companies domiciled in the U.S for at least three of the five most recently reported fiscal quarters.
—
Here are the 10 with the highest median effective income-tax rates as relayed by Dow Jones and Co:
Company Ticker Median effective income-tax rate – past five reported quarters
Newmont Mining Corp. US:NEM 50%
Hewlett Packard Enterprise Co. US:HPE 46%
Nordstrom Inc. US:JWN 45%
CenturyLink Inc. US:CTL 45%
Aetna Inc. US:AET 44%
Centene Corp. US:CNC 44%
TripAdvisor Inc. US:TRIP 43%
W.W. Grainger Inc. US:GWW 41%
Hilton Worldwide Holdings Inc. US:HLT 41%
Amazon.com Inc. US:AMZN 41%
And lowest median tax rates over the past five reported quarters:
Company Ticker Median effective income-tax rate – past five reported quarters
Mosaic Co. US:MOS -40%
Apartment Investment and Management Co. US:AIV -37%
Microchip Technology Inc. US:MCHP -35%
Arthur J. Gallagher & Co. US:AJG -34%
Zimmer Biomet Holdings Inc. US:ZBH -33%
eBay Inc. US:EBAY -32%
Boston Scientific Corp. US:BSX -17%
Thermo Fisher Scientific Inc. US:TMO -4%
Welltower Inc. US:HCN -3%
Kimco Realty Corp. US:KIM -2%
Source: FactSet