Posted By RichC on February 4, 2018
This is what I get for procrastinating until this weekend — TWO right hand seats!
The boxes containing the long delayed leather home theater seats (ie. basement flood of 2013) arrived a couple weeks ago but I waited until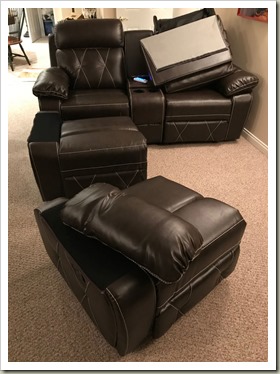 this weekend to unpack since I was out of town last weekend. I unboxed them and started putting the individual seats together thinking it would be nice to have them set up for the Super Bowl with friends on Sunday night — NOPE!
Oh well … we'll still have enough seats and HOPEFULLY enough food for Super Bowl LII.


That said, I'm pretty confident Wayfair will correct the issue even if is will be delayed.
Our long delay in finishing the home theater had to do with a minor disagreement between Brenda and I as to how to best get the proper seating into the room. The first problem is that the stairs and door do not permit a full size couch or sectional; we needed separate units.
I was ok with fewer larger/bulky seats and counter high barstool seating behind.  Brenda wanted a sectional but it was way too challenging to fit in our space and seat enough people. We compromised with a slightly more compact sized theatre recliner and are putting them in two rows of 4 in order to seat eight in front of our 112" HD video projector (I still like this for a dark basement home theater like ours). Once done, the only two missing pieces will be an actual reflective screen instead of painted wall and a replacement sub-woofer.