Posted By RichC on May 21, 2018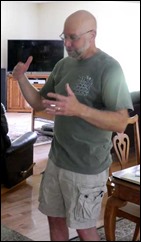 It is hard to believe that my YOUNGER brother Ron is retiring at 56 years old?!? Shocking, but I'm sure welcomed after a long career with the US Air Force working first in Ogden, Utah and the last 30 years at Wright Patterson Air Force Base in Dayton, Ohio.
We were very close brothers when growing up as kids, but grew apart as I headed off to college in one direction and he in another. We both married and politely stayed connected as family … but never had the closeness of "best friends" again. The past decade pulled us back closer again as our parents needed "their boys and family" to assist in the later years, then in settling mom and dad's estate and now as grandfathers ourselves. It is good to feel close to him again ,.. and "want" to get together more often.
Happy Birthday brother Ron – may you have a long and wonderful retirement (sorry for the lousy photo, but this was the only one I took last weekend when we were together!)