Posted By RichC on August 11, 2018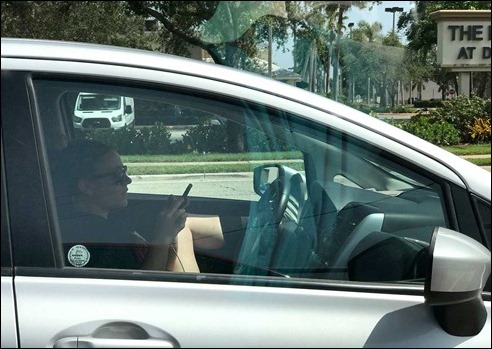 Likely I'm not the best driver when it comes to not glancing at my phone in the car, but I am improving and in recent years am trying not to "read" or "text anything." Unfortunately we still have drivers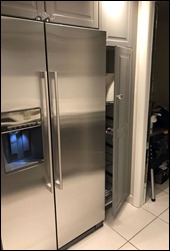 who are "comfortable" (leg up???) with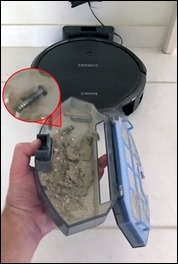 multi-tasking while driving. Ugh.
I spent a few more days in Florida this past week to put the finishing touches on the kitchen update started back in the spring. The kitchen is finished, except for some caulking, cleaning and putting pots, pans, dishes, etc back in the cabinets. Speaking of cleaning, the new Deebot robot tile floor vacuum is pretty impressive. Besides getting tangled up in a cord, it sweeps the floors impressively well for a rechargeable battery powered device. It even sucked up a screw it found on the floor. Wow!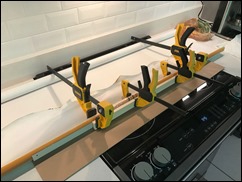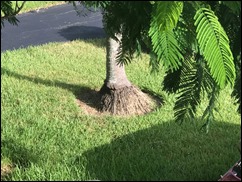 Repairing old blinds until we replace windows & the impressive Palm tree "root ball"
Project two … is the bathroom … and it is coming along slowly. I finished the baseboard tile, grouted the shower and the floor tiles, sealed all of the tiles and sanded/painted the shower floor with a better matching color. Only time will tell how well the polyurethane "topside" boat paint holds up for a shower basin?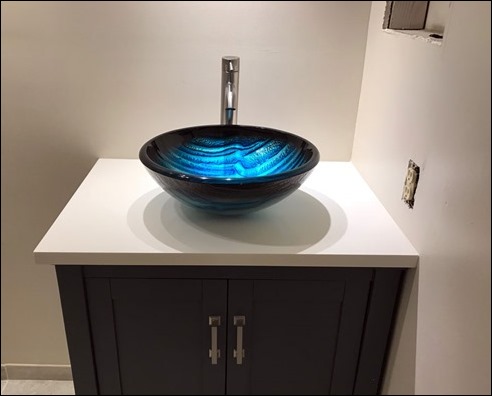 The final couple of projects were to assemble (challenging) the new "furniture look" vanity, have the Quartz installer fit the new top and TRY to install the "vessel" sink and faucet. Wouldn't you know, they sent the wrong drain. Ugh.
Since I removed the old side-wall medicine-chest mirror combo (very dated), I made up my own "in-wall" shelving that Brenda will paint to coordinate with whatever framed mirror she decides to go with. Unfortunately the whole purpose of this quick trip was to be there and received the heavy shower doors — delivery fail. I'll have to figure this out later. Grr.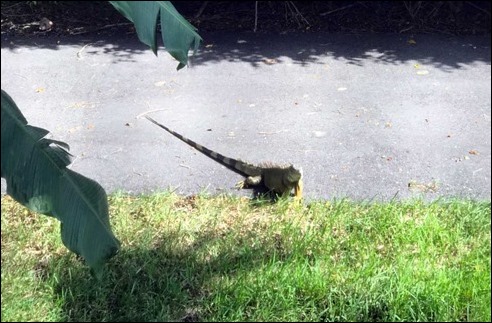 Finally … the lizards are growing and getting bolder. Hm … at least they don't bite.