Posted By RichC on October 10, 2018
EDIT: Updated 14:00-14:30 ET – Landfall Mexico Beach, FL with maximum sustained winds clocked at 145 mph
---
Previous 11:28 a.m. ET update

Hurricane Michael has been upgraded to a "potentially catastrophic" Category 4 storm, with maximum sustained winds of 150 mph, the National Hurricane Center says. Data collected by NOAA and U.S. Air Force Hurricane Hunter aircraft show gusts up to 172 mph.

"We've issued our first ever Extreme Wind Warning," the National Weather Service office in Tallahassee said in a tweet. "This means wind gusts in excess of 130 MPH are expected" over the next few hours. The agency urged people in the area to take shelter "immediately."
---
We've been fortune that gasoline and diesel prices have remained relatively low for quite a few years now, even as the economy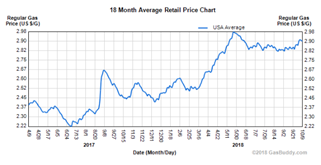 has been recovering from a deep recession.
Thanks in part due to the strong U.S. oil industry and an excess of worldwide supplies … so much for peak oil?
Credit the lower than expected demand to better efficiency and alternatives like EVs … but with the strong economy and recent political tensions tightening the embargo on trade with Iran, prices have been rising. Today's $70/barrel oil has given way to talk of $100 again … although most energy experts disagree. Never the less, I'm regularly paying a lot more for gasoline and now higher priced diesel in the second half of 2018 than I have in a while.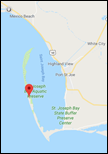 As for Hurricane Michael, the category 2 hurricane is moving fast from the Yucatan peninsula in Mexico, across the warm waters of the Gulf of Mexico and is looking to barrel into the panhandle of Florida as soon as Tuesday evening. It is somewhat unusual after the slow moving Hurricane Florence earlier in 2018 and will likely impact with strong wind but move quickly inland. Sustained wind is currently 110mph and is expected to increase before landfall. Some of my favorite beaches from Pensacola to Tampa will likely suffer high winds, surge and rain. No doubt my favorite "hook of beach" known as the St. Joseph Peninsula and state park will be awash by the sea.