Posted By RichC on October 14, 2018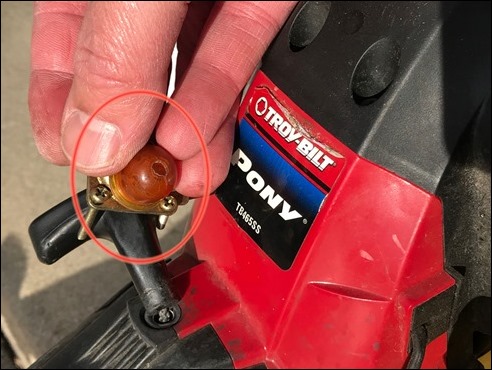 Eleven years ago I replaced my noisy 1980's 2-cycle John Deere brand "heavy" string trimmer with a much quieter 4-cycle Troy Bilt trimmer (Pony TB465SS). Both were, and are, used heavily as I've always had acres of yard to tend. At first glance it was obvious that the John Deere "back in the day" was made much better and would hold up much longer, but sometimes cheaper is ok too in our throw away society.
Unfortunately just like with other small engines, the weak link seems to be the many plastic parts that seem to degrade with age, the elements and ethanol in gasoline. This past weekend it was the primer plastic bubble  … that is the part that has failed on every yard gizmo that I own. Chain saws, "lady" tillers, hedge trimmers, leaf blowers and now string trimmers (the John Deere did not have a primer).
One would think this is a part in particular could be made a little bit better?