Posted By RichC on January 29, 2019


Just another "Patriots are in the Super Bowl" year again. Whoop-de-do. 
Scott Bilik and I have been Internet "tech" friends for a long time … and humorously is my Twitter "Godfather." He has suffered his share of heartache having lost his wife Michelle to cancer in 2013, but remains strong in his faith and marches ahead as a great dad for his 5 kids. He is also was Volkswagen TDI guy, so what's not to respect? 
Scott regularly includes me on his close friends and family Facebook posts which usual include lighthearted geeky humor, as he's an engineer for Qualcomm. I shared one the other day with Brenda as she always asks me how Scott is doing … and like all women, "wonders if he has met anyone?"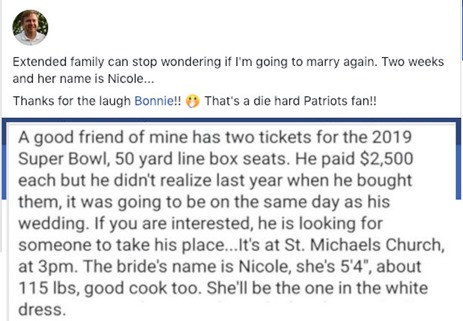 While were on the subject of programmer, software engineer or server admin humor, here's sudo joke from Scott as we approach Valentine's Day. I suspect only those familiar with "command line and computer coding" will understand the graphic below … or my "Root, root, root … for the home team" comment back to Scott since we are only few days from Super Bowl. He lives a few miles outside of Boston and once again has a team to "root" for this year  (a Patriots fan, how disgusting – same for my regular reader and friend Tim Hunter, also a tech guy. What's wrong with them???).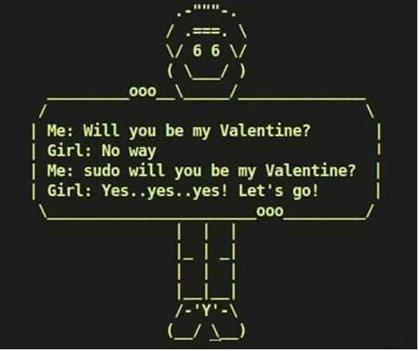 By the way Superbowl LIII will be between the New England Patriots (again) and the Los Angeles Rams (questionable winners over the New Orleans Saints). I can't say I really care this year.