Posted By RichC on March 5, 2019
Where has this year, and the past TWO YEARS, gone? It seems like my granddaughter Annalyn just turned ONE, and now she is TWO already! We will be celebrating with the family in a few days, but sang her Happy Birthday with Alexa's help on their Amazon Echo Monday morning (March 4th). She is indeed the "Apple of MY eye."

As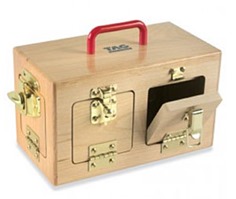 the psalmist wrote and prayed …
"Keep me as the apple of your eye; hide
me in the shadow of your wings."
      – Psalms 17:8
My prayer is that God will do the same for our precious Annalyn – protect her from all the evil in this world and keep her as the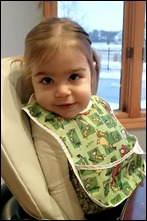 "Apple of Your eye."
An etymological aside: The Hebrew word as it relates to the apple of the eye, is "ishon" – it refers to the pupil or sensitive center of the eye. It is something we protect instinctively because our eyesight is valuable and vulnerable. We guard it very carefully and at all costs protect from harm.
My daughter mentioned that Annalyn really likes closing doors and clicking latches. She was thinking about a wooden box she saw online (photo above) and thought it might be something Bompa could make? I had already sketched a project that I was thinking about, and even purchased some large 8-inch plastic animals after going to the Toledo Zoo with her last year. It was easy to incorporated the box-idea with the hinges and latches into my little "zoo cage project," even though it seems animals in cages and the traveling circuses have gone out of favor?
As with the Christmas 2018  Piggy Bank "handcut dovetails" project, I used hard maple for the wood, with cherry corner splines. I added dowels for bars and wooden wheels to make it little pull along animal wagon, trailer … or train car for those old enough to remember the traveling circus on rails.