Posted By RichC on March 28, 2019
A John Cougar Mellencamp post a couple weeks ago had me remembering "my" small town of Sidney, Ohio and four of my high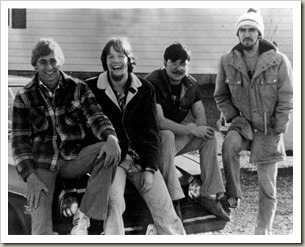 school friends from the late 1970s, hence the Throwback Thursday #TBT.
I mentioned the Mellencamp Music Monday post to my friend Jeff a couple days later and the tie-in with Sidney (see video history) who commented, "are you thinking about your glory days?"
Hm … I had not thought of it in that way … and those days were far from the Bruce Springsteen lyrics in "Glory Days" (song below) … but there were some good times and great memories. The photo of me, Charlie, Rob and Greg is from the winter of 1979-80 after we had all gone our separate ways after high school. We had all changed … and "really did go separate ways" …


but still had the comradery and common trait of all being transplants to Sidney in high school from elsewhere (which seemed significant at a time when so many of our classmates grew up with each other and already established their clique of friends). 
As for the Bruce Springsteen song, I suppose it is still fitting, since I don't mind thinking of my entire childhood through college years as Born in the U.S.A. kinda "Glory Days."
| | |
| --- | --- |
| | Bruce Springsteen – Glory Days | 1984 |