Posted By RichC on June 10, 2021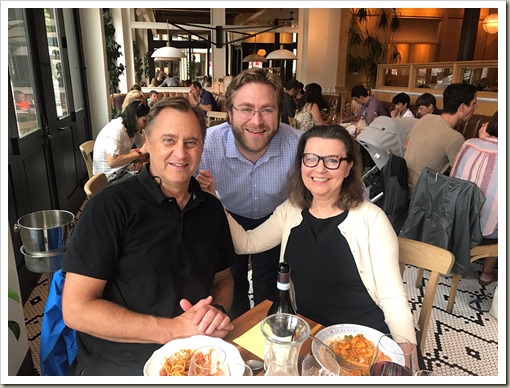 We had a great time celebrating Taylor's 32nd birthday last night after work at Pepp and Dolores restaurant in Cincinnati thanks to Megan. Brenda and I enjoyed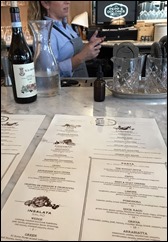 arriving a little early and sitting at the bar talking with the bartender while sipping some Italian wine. We ended up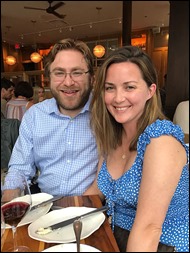 discussing menu since she wasn't overly busy. The restaurant opened December 2020 just before COVID19 shut them down, so it was nice to see the restaurant thriving and the staff back now that they are fully open again. It was a surprise to us that this was Megan and Taylor's third time there. It seems they really enjoy the appetizers and have a pretty good handle on the menu. 
I gave Taylor the reclaimed wood walnut "bookholder"  that I made for his turntable buffet or perhaps desk … and was glad he like it.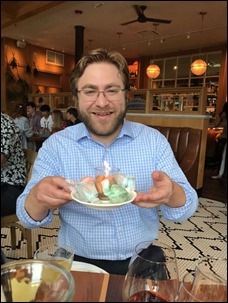 After dinner we walk a short bit down the sidewalk along Vine Street in the 3CDC renovated Over-The-Rhine (OTR) area. Taylor, as a planner,  is pleased to see the old building being saved and life coming back into the city bit by bit. Personally I appreciate saving the neighborhoods around Cincinnati, but until the panhandlers, homeless/local residents who are loitering on the sidewalks and crime problems are improved, it will not my first place to go.
What didn't help was to have paid for a couple hours of parking only to come back to a ticket on my car – time expired. It tainted a perfect evening and ended up being another reason I avoid dining and events in the city. Cincinnati can and should be able to do this better. Going downtown should be more attractive for those of us living just outside the city. Perhaps my buddy Jeff has it correct, "Rich, you're just a GOM (Grumpy Old Man)." 😉