Posted By RichC on February 19, 2019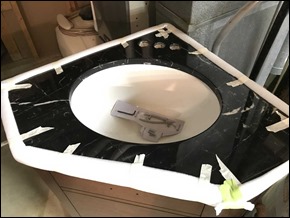 After working on both the condo guest bathroom and kitchen last year in Delray Beach, Florida, I'm hoping to work on the master bathroom when we vacation this year. Our renters have emailed just how pleased they are with the new updates and suspect they will rent again in 2020?
At one time I planned on fixing up only the kitchen (photo) in order to put condo1718 on the market, but after making the improvements last year, Brenda talked me into keeping it another year and remodeling the master bathroom this year. Since I enjoy stretching out a weekend here and there (and have that flexibility) … I gladly agreed adding a little more sweat equity.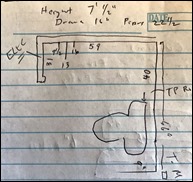 It might only improve the salability, but who knows, it might add a little equity IF I can keep Brenda from picking higher cost tile, mirrors, decor, etc.
Currently the master bathroom has only a single sink, toilet and fullsize tub. I plan to keep the tub and toilet (I replaced it years ago). The plan was also to build my own custom sized corner vanities in order to fit a his and her sink in the small space … but after working the numbers and found something that might work better and just take a little tweaking (saving me some work too). This week the order of well package boxes arrived from Southern and so I assembled and started to figure out the best way to fit them appropriately. Hey Brenda, start thinking about mirror options – yikes, corners are tricky.