Posted By RichC on October 23, 2019
The subject line is probably misleading since "vacation" and "finishing the upholstery and cleaning" probably are contradictory … but the few days at a time updates on the condo this past year needed to get finished up before our winter renters arrive.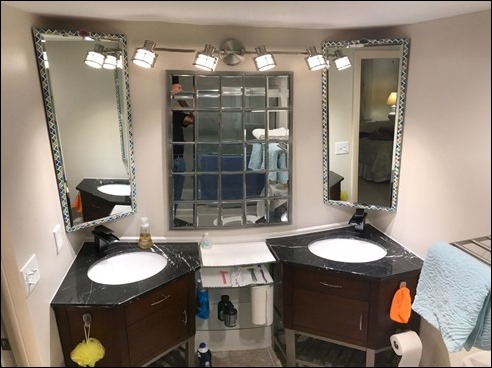 Thankfully Brenda and I scheduled a couple weeks in October to be in Delray Beach, Florida as our vacation just as we did last year. We still planned on a week of rest and relaxation with Katelyn, Drew and Annalyn (Saturday's Part 2 post), but also fully intended to finalize the updates started in the spring to Condo1718.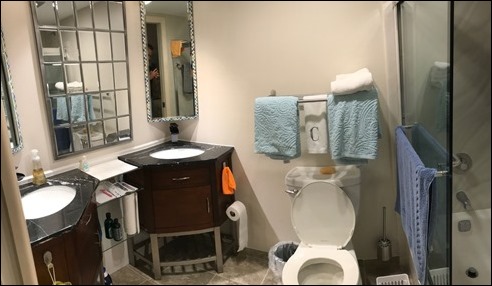 All in all … everything went well since the first week was entirely rainy and the second with the family primarily sunny and nice (actually hot). My goal was to finish up the new upholstery, make a few cushions with the extra material and install the mirrors that Brenda was adding her touch too, put back the final plumbing items and bathroom hardware (had issues with the old toilet valves, tank seals and floor mounting ring – should have just bought a new toilet). The new cushions for the side chairs and matching pillows for the loveseat turned out great … you get better sewing over time. We also shopped (ugh!) for complementary pillows for the couch and loveseat which was a more challenging job than we both thought. After tagging along (so we could be together), I realized that THAT was a better job left to Brenda alone! (forgot to take a photo of the pillows on the finished couch and loveseat)
Once finished, we started the deep cleaning and getting ready for some downtime with KDA (Katelyn, Drew and Annalyn … and Baby Oostra #2). All in all, the final updates went well, but as with most of of "OUR" projects, they aren't really finished. Oh well, that means some trim paint, caulking, touch-up and hand stitching of pillows are still yet to do and that I'll just add a few more items to our growing "next year's list!" 🙂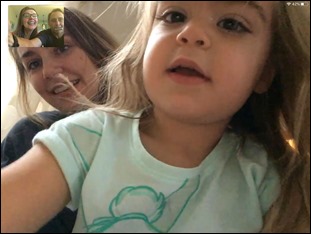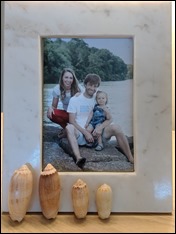 We also FaceTimed with Annalyn, to be sure she was ready to to visit Oma and Bompa!