Posted By RichC on November 23, 2019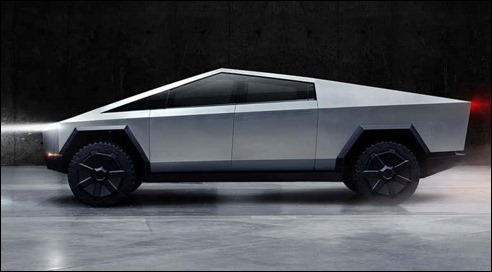 Tesla's version of a "pickup truck" is being offered as a "green" alternative to America's appetite for a consumer truck. Ford continues to dominate with it's F-150 with Chevy and Dodge nipping at their heels. For some reason, we Americans want a pickup truck even though few use their dressed up beasts to haul anything. Perhaps Tesla's futuristic Cybertruck really does fit that niche?
Tesla and Elon Musk's unveiling did not go without a couple marketing glitches … the most talked about was when chief designer Franz von Holzhausen (VW guy) threw a metal ball at one of the "armor glass windows" only to have it shatter on Thursday night's live stream. So Holzhausen tried again, targeting a second window … whoops, shattered again! … BUT as Elon Musk commented, "it didn't go through."
"We threw everything, we even literally threw the kitchen sink at the glass and it didn't break. For some weird reason, it broke now, I don't know why," said Musk.
The theme to the unveiling of the Tesla Cybertruck was to demonstrate the toughness that was designed into their new vehicle … starting at $39,900. The electric pickup truck is made from a stainless steel alloy also used for SpaceX's rockets. "It is literally bulletproof to a 9 millimeter handgun," said Elon Musk. To prove the "toughness" point, Franz von Holzhausen, hit the sides of the Cybertruck with a sledgehammer.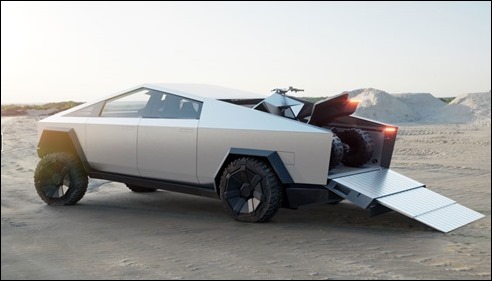 Tesla says the Cybertruck will be available in three battery options: 250, 300 and a monster 500 mile range and that they expect it to roll off the assembly line in late 2021.
The unveiling event on the video (5 min mark) is archived below … although it was the glass-bashing which made the headlines (14 min mark). Personally the impressive marketing boasts from Elon Musk that followed werea most compelling to me; I think I might want one … or maybe just the ATV (see 22 min mark)!