Posted By RichC on January 27, 2020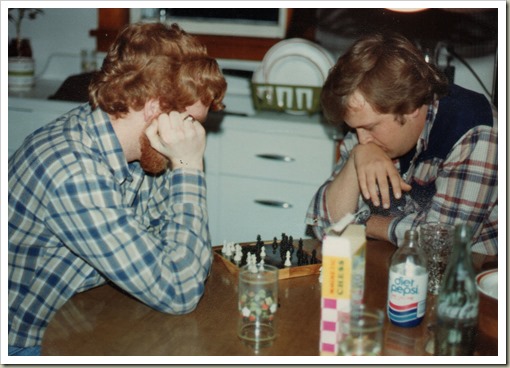 Last week I was exchanging jabs back and forth with my best friend Jeff (in photo on right) and realized it has been nearly 40 years since I took this photo. He was sitting in the kitchen of our Ada, Ohio apartment playing chess with one of my roommates, Jerry Moody (on left). The photo was one that I stubbled on a couple weeks ago when clearing space for some folders in my file cabinet.
We were having a mid-day conversation about network and online security (he is a cyber security analyst)  … but we ended up in a personal conversation before suggesting we save them for later and get back to the "security" problem. Eventually I told him it was "ok" to discuss non-work memories … because as Alan Jackson and Jimmy Buffett concluded, It's Five O'Clock Somewhere and sent him this link … besides I needed a Music Monday song (video below)!