Posted By RichC on February 26, 2020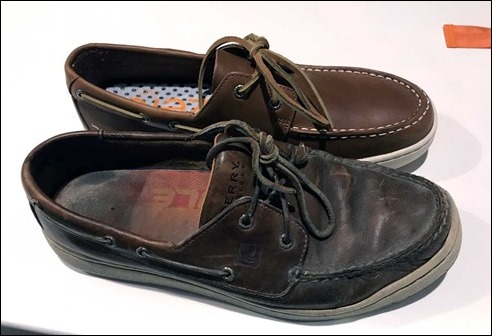 Old verse New Sperry Topsiders for 2020
Although I've needed a new pair of Sperry Topsiders for quite some time now, I was disappointed in that the shoe was not made the same as a previous version. I've had over a dozen boat shoes in my lifetime, but only the Sperry brand in recent years.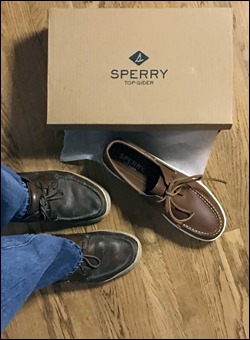 Don't get me wrong, I'm still happy with the new boat shoes, and great Valentine's Day gift from Brenda earlier this month, but sense Sperry is cheapening their product and banking on their good name? Perhaps it is just a less expensive version that markets the sole and look of their previous well constructed shoes, but "I thought" I was getting the same shoe as before (could be my mistake)?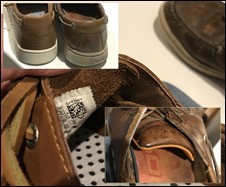 At any rate, the new shoe has more in common with my 1970s and 80s boat shoes in that there isn't the same stitching and reinforced lined areas that my prior/recent shoes have had. No doubt the leather will wear equally well … but suspect the bare foot on raw leather will be even more difficult to keep from taking on odor.
Only time will tell … for now, time to break them in!
Sperry Top-Sider

While sailing on the Long Island Sound, Sperry slipped on the deck and fell overboard. He was able to pull himself back on board, but the experience drove him to develop a non-slip shoe. While experimenting with possibilities for non-slip shoes, he noticed his dogs' ability to run down the icy hill without slipping. The grooves on their paws inspired him to try cutting grooved patterns (siping) in a natural rubber sole.

Sperry tried various patterns of siping and settled on a herringbone pattern as the most effective. He cemented the prototype soles to a pair of canvas sneakers and gave them to Leon Burkowski, the young man who looked after his boat. When Sperry and his wife returned, "Leon immediately threw a bucket of water on the deck and yelled, 'watch.'" He took a running start and stopped dead in his tracks. This was the invention of the first pair of Sperry Top-Siders.

In 1937, Sperry applied for a United States patent for his non-skid sole. He first offered the patent to the United States Rubber Company of Connecticut. The company turned him down because the sole would cost $4.50, when an expensive shoe at the time cost $3.75. Sperry then offered the patent to Converse Rubber Company in Boston, Massachusetts, which agreed to make blank rubber soles and ship them to Sperry for siping and then assemble the finished shoes and return them to Sperry for sale. Sperry developed a machine for cutting the non-skid design into the soles and launched the project working in his spare hours while employed full-time at the Pond Lily Company.

A friend, Donald White, who worked as an advertising salesman for McGraw-Hill, suggested Sperry sell directly by mail and helped him compose a letter to send to all 500 of Sperry's fellow members of the Cruising Club of America. Sperry received responses and requests for shoes from all 500 members.[7] Confident that he had a winning product, he started a mail order business, while also selling the shoes through the Commonwealth Shoe & Leather Company in Boston and a small direct mail catalog IIn the later 1930s, Sperry continued work on developing a more durable and functional boat shoe. He worked with the United States Rubber Company, which developed a rubber compound for traction and wear that could be more easily siped, and with the Commonwealth Shoe & Leather Company on a new leather shoe design made with specially tanned leather.  Sperry's new design had a unique "saddle" through which rawhide laces were pulled—the now-familiar Sperry Authentic Original boat shoe.

In 1939, the United States War Department specified Sperry Top-Sider as one of the official shoes of the Navy and negotiated the right to manufacture the shoes for its sailors. It became the official footwear of the casual uniform of the United States Naval Academy.  In 1940, Sperry sold his business to the United States Rubber Company, which successfully marketed the shoe across the United States.