Posted By RichC on February 3, 2020

The Super Bowl was played at Hard Rock Stadium in Miami Florida this year and saw two great 2019 teams square off.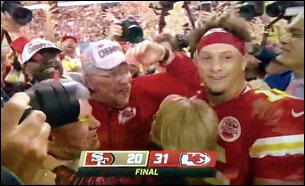 Both the Kansas City Chiefs and San Francisco 49ers had every right to represent their leagues as both teams had superb seasons and playoff victories. Unfortunately, neither team in my opinion played their best football.

From coaching blunders to unusually weak passing performances by a couple of the NFL's top quarterback in  Patrick Mahomes and Jimmy Garoppolo. About the only thing that stood out to me was an explosive finish by the Chiefs to come from behind and win the game.
The highlight for me was to see Chief's coach Andy Reid finally win a Super Bowl (I also was cheering for a team from America's heartland). In 21 seasons in Philadelphia and Kansas City, he had made the playoffs 15 times and is considered one of the best offensive minds in football. No doubt he is in the waning years of coaching, so it was great to see his team finally take the top prize.
The Chiefs came back from a 10-point, fourth-quarter deficit to beat the San Francisco 49ers 31-20 and win Super Bowl LIV in the most pressure-packed display of Mahomes's transcendence yet. He had already led Kansas City back from double-digit deficits in back-to-back playoff games to reach this Super Bowl. What was one more?

For any other quarterback running any other offense, this might have seemed unreasonable. But Mahomes has already made the unreasonable a reality so many times that everything that happened in the first three quarters hardly seemed to matter once he got the ball midway through the fourth quarter, trailing 20-10. The two interceptions he had thrown were irrelevant, and so were all the times San Francisco's menacing defensive line had shoved him to the ground.

Mahomes had the ball. And that's when magic happened.

With 8:33 left in the fourth quarter, Mahomes suddenly channeled the ability to carve up a 49ers defense that had given him fits all evening. He led the team on a 10-play, 83-yard touchdown drive in under three minutes. And one minute after that, the Chiefs were receiving a punt and Mahomes was ready to do it once more. This time, it only took seven plays. In barely any game time, Mahomes had thrown two touchdown passes and taken the lead.